Folks often ask how I think of stuff to write about, and while I sometimes really have to scratch to come up with a subject, especially when a deadline is breathing down my neck, things I see in my travels often trigger a memory that leads to an idea for a story.
For example, I recently spent a couple enjoyable days at the Northwest Pennsylvania Steam Engine and Old Equipment Association summer show in Portersville, Pa.
A memory
A big part of the show every year is an antique car and truck display with usually 15- to 25-year-old vehicles on exhibit. This year there was a nicely restored 1928 Whippet sedan that reminded me of one of the family stories that my mother related to my sister and me on more than one occasion.
Courting
The story goes that when my dad was courting my mother, he drove a Whippet automobile. Mom was deeply religious and couldn't abide swearing, and, although I'm sure Dad never uttered a cuss word in his life, he did often use milder expletives such as doggone, son-of-a gun and darn.
Well, the old Whippet was noisy, Dad talked in a low voice, and on their first date Mom said she thought he was cussing and determined to never see him again. Somehow the error was resolved and they went on to marry in 1931, in spite of the noisy car.
Of course this gives me the opportunity for a history lesson, as I'm sure not many readers are familiar with Whippet cars.
Second in production
The Willys-Overland Motor Company was the creation of John North Willys, a super salesman by all accounts but maybe not so great at running a car company.
Willys gained control of the failing Overland Auto Company in Terra Haute, Ind., about 1908 and soon moved production to an old Pope-Toledo automobile factory in Toledo, Ohio, where, from 1912 to about 1918 sales of the Overland and Willys-Knight cars were second only to the Ford Model T.
Willys took his profits and bought a bunch of different businesses, formed the Willys Corporation, and moved to New York City to run his far flung holdings. The Overland plant was entrusted to Clarence Earl, who wasn't up to the job and failed to weather the post-war depression.
Willys bankers and creditors brought in Walter Chrysler to save the company in 1919, which he did through ruthless cost-cutting, even halving John Willys salary, and firing Earl.
Car factory
Two years later Chrysler moved on to save another ailing car company, Maxwell-Chalmers, which later became the Chrysler Corporation, and Willys got his factory back. He sold off his other interests and concentrated on running the car factory, and did quite well at it.
Chrysler hadn't thought much of either the Willys-Knight or the Overland, but John Willys parlayed the two cars into a big success story. From a 1921 production of maybe 50,000 cars he managed to quadruple sales by 1925, pay off his debts and even turn a nearly $20 million profit that year.
The Whippet. In 1926, Willys discontinued the Overland and introduced the Whippet, which was named for the famed racing dogs, and it became an immediate success due to its good looks, small size, speed and low price.
The Whippet at first was available only as the Model 96 with a 30HP, 4-cylinder engine on a 100 º- inch wheelbase chassis, but the Model 98, powered by a 40HP six with a 109 -inch wheelbase was added in 1927. Bodies available in both models were coupe, roadster, 2-door and 4-door sedans, cabriolet and landau.
Prices were well under $1,000 with the Model 96 cabriolet selling for just $535 in 1928, or $5 less than a similar but much more primitive Ford Model T. The Model 98 was advertised as the World's lowest priced six, and the buying public responded accordingly. During the first year of production 110,000 Whippets were sold and in 1928 Willys-Overland shot into third place behind Chevrolet and Ford with 315,000 cars out the door.
Speed
In spite of the low price of Whippet cars they were equipped with 4-wheel mechanical brakes, seven-bearing crankshafts (on the six), Bohnalite pistons, and full pressure lubrication. These features, plus the car's reputation for speed — a Whippet Six ran a 24-hour endurance run at the Indianapolis Speedway and set a new record for stock passenger cars costing less than $1000 by averaging 56.52MPH — helped with Whippet's popularity.
I'd have to guess that the car's appeal to my dad was more the low price than the speedg, but I might be wrong.
Ended in 1931
Sadly, the Great Depression did for the Whippet and it was discontinued in 1931. Willys-Overland limped along until World War II when the military demand for jeeps which, although first designed by the American Bantam Motor Car Company of Butler, Pa., were built in huge quantities by both Ford and Willys-Overland and helped to save the Toledo company.
The firm capitalized on the Jeep and continued production until being bought by Kaiser Motors in 1953. And, as everyone knows, the Jeep is still with us, although it gone through several owners, and is about the only reminder of the Willys-Overland Company.
So after reflecting on Mom's story, I guess I can safely say that I nearly didn't exist due to a noisy Whippet automobile.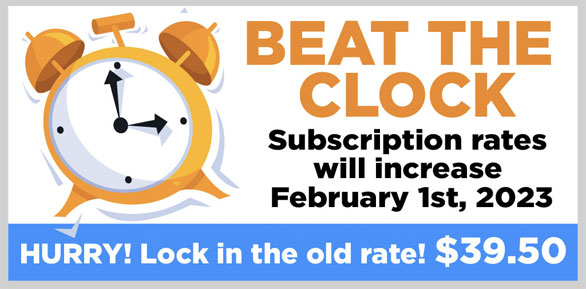 STAY INFORMED. SIGN UP!
Up-to-date agriculture news in your inbox!