SALEM, Ohio — When most people think of 4-H, they think of cows, barns, hay and dirt. However, there is a whole other side to 4-H for members to experience.
4-H offers many nonlivestock projects, including photography, shooting sports and cake decorating. In the Western Reserve Rangers 4-H Club, adviser Kathleen Moser has focused on fashion.
According to Moser, there are 20 clothing projects, ranging from beginning to advanced, for 4-H members to choose. The beginning level includes projects like sewing a skirt, pants or a top. At the advanced level, there are projects like "Dressing for the Job" and "Outer Layers."
Moser has also instructed nonconstruction projects, like "Consumer Shopping Projects" and demonstrations.
Influence
These projects have influenced members of her club beyond their 4-H years.
Several club members have earned degrees in fashion merchandising and fashion design, including Sara Cummings Ludt, who graduated from Youngstown State University in 2014 with a degree in fashion merchandising. Ludt now works as a seamstress in a bridal store where she lives in North Carolina.
Ludt began working on clothing projects as a member of Moser's club at the age of 14, and it was during her 4-H career that she realized she wanted to go into the fashion industry.
"Definitely, 4-H pushed me in that direction," said Ludt.
Another club alumna, Becky Hardy, earned a degree from Kent State University in fashion design and merchandising. In 2008, Hardy launched her own embroidery business, Hardy Designs, in Damascus, Ohio.
Hardy's interest in sewing started in middle school, when she wanted to create a Halloween costume. She said at that point, she "didn't know patterns existed" and ended up sewing the costume from scratch.
The next year, she joined the Western Reserve Rangers 4-H Club and began her first clothing projects. From that point on, Hardy submitted several projects each year, sewed her own homecoming and prom dresses and participated at the Ohio State Fair multiple times.
Hardy said "4-H shaped my life in that way." Over the course of her 4-H career, she was a camp counselor for Camp Whitewood, served as the Canfield Fair 4-H queen in 2001, and participated in many projects and public speaking events. She was also a member of the State 4-H Fashion Board one year.
The State 4-H Fashion Board consists of approximately 20 members who are nominated by their county program each year. The board members assist with the State Fair 4-H Fashion Revue, clothing workshop sessions and other events related to promoting Ohio 4-H clothing projects and programs.
Hardy's prom dress, a formal wear project, was one of her favorites.
"I would complete two steps, then have to try it on, then complete another two and have to try it on again," Hardy said. "I was so excited."
Projects
The clothing projects that members like Ludt and Hardy completed included sewing garment pieces and finishing the outfit with accessories or other articles of clothing for a styled look.
The projects also included judging events with face-to-face interviews and evaluation of projects, and style revues. Like animal projects, the clothing projects include a project book to complete each year.
Throughout the project year, Moser leads five or six sewing workshops at her house for members to work on construction projects under her guidance and to discuss accessories and fashion trends.
"I think these projects motivated these youth to select patterns with a challenge each year so they could learn new skills," Moser said. "The young women were always excited about their selections and loved the sewing workshops."
Tanner Gordon, a current member of Edinburg Seambusters and The Stablemates 4-H clubs in Portage County, served on the State 4-H Fashion Board last year. He started taking clothing projects in 2012 and is considering a career in costume design.
His sewing experience with 4-H allowed him to earn over 100 work hours in costumes, which then allowed him to be the first freshman at Southeast High, his school, to be inducted into the International Thespian Society.
Gordon said sewing "from a male perspective is a dying thing," and it can be difficult to find "patterns for guys" at fabric stores. He also said "even at our county and state fair judging, the male population is small."
Despite the stereotypes, Gordon encourages other male 4-H'ers to give fashion projects a chance.
"You might be putting yourself out there a bit," Gordon said, "but it will benefit you."
The leadership and learning opportunities, advantages with theater projects and sense of accomplishment from sewing difficult projects have made clothing projects worth it for Gordon.
Challenges
Many of these students continued to challenge themselves after graduating from 4-H.
Her senior year at Youngstown State University, when the time came to find a required internship, Ludt decided not to go the easy way. She applied for an internship with Nanette Lepore, a fashion designer in New York City, and ended up working in her sample department for two months. The internship allowed her to work on sample sales, hand beading and dyeing.
Hardy also challenged herself by starting Hardy Designs. She had been thinking about starting an embroidery business and "the idea wouldn't go away."
So Hardy bought the machines and equipment she needed and taught herself how to use it. Some of her products include T-shirts , signs and banners. She also does alterations and has worked with brides on wedding dresses and high school students on their homecoming dresses.
Opportunities
Hardy thinks that nonlivestock projects are underrated.
"They think it's large livestock because that's what they see at the fair, but it's so much more," Hardy said. "What little kid learns to sew if they're not in 4-H?"
Hardy also completed project with pocket pets, cake decorating, clowning and rope. She said 4-H gave her exposure to many skills she did not learn in school, and gave her access to a knowledgeable mentor. Moser is a master clothing educator and has been a 4-H sewing adviser for 48 years. She was in the original class of OSU/4-H Master Clothing Educators in 1997 and was inducted into the Ohio 4-H Hall of Fame the same year.
Ludt also said 4-H gave her leadership opportunities she didn't have in school, like being a camp counselor.
Although nonlivestock projects may sometimes be underrated, they are not incompatible with livestock projects. Ludt said she originally became interested in fashion when she was participating in lead line projects at the Canfield Fair. Lead line is a sheep and wool promotional class that involves leading a sheep while wearing clothes that are made mostly of wool.
Her grandmother helped her make outfits to wear for lead line competitions, then she met Moser and joined the Western Reserve Rangers to start working on 4-H clothing projects. Throughout her 4-H career, Ludt took market and carcass lamb projects in addition to clothing projects.
Cows, barns and hay are all a huge part of 4-H, but so are cameras, bows and arrows, and sewing machines. Just like livestock projects can encourage 4-H'ers to pursue long-term careers and hobbies in agriculture, clothing and other nonlivestock projects can help 4-H'ers gain life skills and find their passions.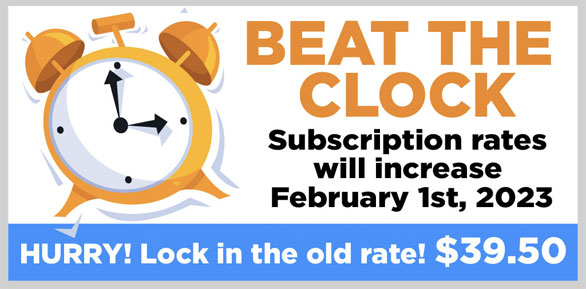 STAY INFORMED. SIGN UP!
Up-to-date agriculture news in your inbox!