LISBON — The Columbiana County Agricultural Hall of Fame will induct three individuals during ceremonies on opening day of the Columbiana County Fair: Ernest Aegerter Jr., of Hanover Township; Frank Murray, of Center Township; and Isaac "Ike" Skeels, of Salem Township.
The trio will be enshrined during the Columbiana County Fair in Lisbon, Ohio, Aug. 1, at 10:30 a.m. in the Arts & Crafts Building. All awards are presented posthumously. The honorees' families will also be honored, and framed portraits and biographical sketches of each individual will be unveiled.
The biographies of the previous inductees are permanently displayed in the Arts & Crafts Building.
Ernest F. Aegerter Jr.
1951-2005
In 1951, Ernie Aegerter was born in his family's farmhouse in Hanover Township. It was in that house that he raised his own family, and it was in that house, surrounded by his family, that he died in 2005.
In between, he spent a lifetime building his dairy farm, and strengthening his community, including the Columbiana County Fair. He served 12 years as a fair board director, including two years as vice president and two years as president. He used his time on the fair board to promote agriculture in both a fun and educational way, and was the architect of the fair's combine demolition derby, that continues today. An avid tractor puller, he also showed cattle at county and district shows, including the junior champion Jersey at the 1993 Ohio State Fair and 2-year-old Jersey Futurity winner at the state fair in 1994.
He was a member of the Columbiana County Farm Bureau, and was received the county's Outstanding Woodland Owner award in 1998. He was never afraid to explore new opportunities, and was one of the first in the area to raise whitetail deer, and opened the Stoney Creek Driving Range on the farm.
Frank J. Murray
1916-1997
 
Frank Murray bought his first farm in Hanover Township when he was just 21. He later bought the family farm in Center Township, which is still in the family, and maintained two farms during his lifelong career. He built dairy, hog and sheep operations, all while working as a livestock buyer, and off the farm for Superior Meat Packing.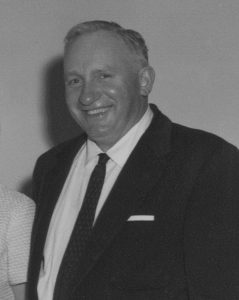 He helped organize the county's 4-H hog and lamb committee, and was instrumental in the construction of the sheep and hog barns at the Columbiana County Fairgrounds. He was a member of the Damascus Livestock pig committee, and also bought and sold pigs at Damascus, Elkton, Carrollton and Scio livestock markets, often hauling livestock for other buyers as well.
His leadership extended to community organizations, as well. He was a member of the New Lisbon Masonic Lodge, an active member of the Columbiana County Farm Bureau and its Salem-Center farm council, and served on the U.S. Department of Agriculture's county Agricultural Stabilization and Conservation committee, and the board of the Guilford Grange. He also served on the Columbiana County advisory committee for OSU Extension (he was a state winner for his 4-H roping project), and was a member of the First Presbyterian Church in Lisbon.
Isaac "Ike" F. Skeels
1909-1971
Isaac "Ike" Skeels was a dairy farmer in Salem Township and was active in agriculture from 1947 until his death in 1971.
A three-term member of the Columbiana County Fair board, he believed the fair was a vital link between the local community and the county's rich agricultural heritage.
He showed Guernsey cattle and draft ponies at the fairs in Columbiana and Mahoning counties. He was also a member of the Mahoning Valley Pony Breeders Association.
Skeels was a strong supporter of the county 4-H and FFA programs and served as a 4-H adviser for Just-Rite 4-H Club for 20 years. He also called square dances for area youth at Perry Grange near Salem.
Skeels showed his commitment to the community through membership and leadership in several organizations, including St. Jacobs United Church of Christ in Leetonia. He was a past patron of Lisbon Eastern Star, and was a member of the New Lisbon Masonic Lodge and Steubenville Scottish Rite.
Related post:
Commentary by Farm and Dairy Editor Susan Crowell: Leadership lives in all of us
Previous enshrinees include:
2016: 
James C. Baer
Walter Boyd
Wilma Lippincott
Arthur Arter Rudebock

2015:
Allan G. Chamberlin
Charles L. Harper
2014: 
Russell N. Cook
James W. Cooper
William L. Woolf
2013:
Curtis F. Hively
Carey Augustus Houlette
2012: 
John W. Hawkins
Audrey M. Harrold
Paul H. Hays
2011: 
Allen Dickey
Don Rupert
Leland and Oland Baker
2010:
John L. Denny
Charles James Gause
Galen H. Greenisen
Fred H. Johnson
2009: 
Paul H. Gipp
J.H. "Howd" Sinclair
Henry Halverstadt
2008: 
Edwin R. Copeland
Betty Jo Zehentbauer
Paul Zehentbauer
Gerald Himes
2007: 
Nathan Cope
J. Twing Brooks
John S. Morris
2006: 
Clifford F. Shaw
Palmer W. Freshley
Russell Lippincott
2005: 
Emmet Baer
Leonard Lowmiller
George Wilson
2004:
James T. Darling
Willis J. Zimmerman
Rowena Whinery Zimmerman
Charles F. Mindling
J. Paul Wilms
2003: 
John Jacob Bowman
R. Dale Miller
Kenneth D. Eells
J. Herbert Thompson
Samuel Tritten
2002: 
Edwin H. King
Ralph Papania
George F. Copeland
Frank G. Bowman
Ralph J. Schneider
2001: 
Elden R. Groves
Edmond F. Lippincott
C.T. Shreve
Clifford L. Israel
Joshua Brantingham
2000: 
Floyd Lower
Willis Whinnery
Harvey S. Firestone
Oliver Sidwell
Willis Rupert
Bartley Aegerter
Hiram Bell
Peter Y. Brown
Dan J. Simmons
Fred Schoeni Sr.
STAY INFORMED. SIGN UP!
Up-to-date agriculture news in your inbox!