WINONA, Ohio — Columbiana County Farm Bureau honored Doug Wiley, DVM, and State Rep. Tim Ginter at its annual meeting Sept. 27.
The meeting at Winona Friends Church was filled with Farm Bureau members, politicians and special guests, including Frank Burkett III, Ohio Farm Bureau president; Mike Boyert, OFBF state trustee; and Adam Sharp, OFBF executive vice president.
Awards
The Distinguished Service Award, the highest honor given by the county Farm Bureau, went to local veterinarian, Doug Wiley.
The award is given to an individual who has made an outstanding contribution to the local community and the industry of agriculture. It is selected by the three previous winners.
Wiley grew up in Ellsworth Township in Mahoning County and is a graduate of Canfield High School. He studied dairy science at Ohio State University and was accepted at OSU's College of Veterinary Medicine. While at Ohio State, Wiley met his wife, Beth, also an agriculture major, and the two married in 1980.
In 1984, Wiley and partner, Fred Bennett, DVM, took ownership of a veterinary clinic in Lisbon. They later moved the clinic's location and expanded the business, which now has six vets and 24 other staff members taking care of large and small animals.
The Wileys have three children, who also attended OSU, and their family life focused around Crestview schools, 4-H and church.
Doc Wiley, as many know him, has now been practicing veterinary medicine for 34 years and serves on the Food Animal & Equine Advisory Board at OSU. This group focuses on how to develop students into better veterinarians through education, internships and other experiences, while trying to keep the cost and student loan debt to a minimum.
State Rep. Tim Ginter was also honored with the Friend of Agriculture Award, which is presented by the Ohio Farm Bureau for good government political action.
Scholarships
The Columbiana County Farm Bureau scholarship winners were announced: Megan Amos, United Local; Rachel Amos, United Local; Austin Lowmiller, Minerva; and Zebediah Zehentbauer, United Local.
Nick Kennedy, OFBF organizational director, noted the county's financial loss for the year and that their membership was down for the year. But the county's Farmers' Share Breakfast was more successful then they imagined, feeding more than 1,300 people.
Transition
During the presentations, the new state president Frank Burkett III said it has been a year of transition at the national and state level. The transition for American Farm Bureau was the election of a new national president, Zippy Duvall. OFBF's state president, Steve Hirsch, had been appointed to the Nationwide board of directors, giving him, Burkett, a chance to be OFBF's president.
Additionally OFBF hired a new executive vice president, Adam Sharp. He succeeds Jack Fisher, who retired after 20 years as executive vice president.
Sharp spoke to the group in Winona, sharing his background and dedication to Ohio agriculture. He plans to visit and host discussions in all 88 counties during his first year in office.
"I want to know your thoughts: What should we start doing? What should we stop doing? Where can we make improvements," Sharp said.
"Legislatures know who we are and what we stand for," he added. "We can work together to make our county, state and national Farm Bureaus stronger than ever."
Sharp discussed his involvement with both national presidential campaigns, and said that he and others at OFBF have engaged with both parties to educate, share and to serve as resources around agricultural issues.
"Candidates need to how important agriculture is to this state," he said.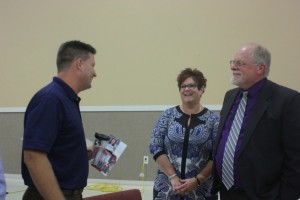 Learn more about Sharp and his plans and focus from a question and answer session with Katy.
STAY INFORMED. SIGN UP!
Up-to-date agriculture news in your inbox!