BERLIN CENTER, Ohio — The following Western Reserve Rangers 4-H club members received awards at Mahoning County 4-H judging events in July.
In public speaking/ marketing were Bailey Hornberger, Justin and Garrett McGinty, Gabriella Marinescu, Katherine Pitcairn, Remi Mikan, Erin and Jena Styka. In the area of small projects were Gabriella Marinescu, Delorean Jones, Emily Ramm, Tiffany Voland, Pitcairn, Ian Hames and Hannah Shrader. Jones also competed in food and nutrition. Styka, Elizabeth Marinescu, Jones, Voland, Sara Cummings, Shannon Graf, Isabel Schors, Sarah Hernan, Shannon Marshburn, Gabriella Marinescu and Alexx Hames are participating in the Ohio State Fair 4-H fashion revue.
Several members received state alternate awards. They include Pitcairn, Emma Reph, Alyssa Higgins, Gina Roberts, Hannah Shrader, and Olivia Haid. County award ribbons were won by Elizabeth Marinescu, Shannon Marshburn, Alex Veverka, Erin Styka, Olivia Reph, Amy Milo, Emma Reph, Alyssa Higgins, Abigail Schors, Ashley Algarin and Jones. Outstanding county project winners include Elizabeth Marinescu and Voland.
At the July 4-H meeting Elizabeth Marinescu highlighted all the preparations the County 4-H fashion board completed for the Style Revue at the Canfield Presbyterian Church. Health leader Karl Reph explained why mosquito bites itch and health leader Bailey Hornberger gave a talk on identifying and treating poison ivy.
Club adviser Kathleen Moser encouraged the members and families to enter projects in the open class departments of the Canfield Fair. There were information booklets for the arts and crafts, fine arts and horticulture departments of the fair available. Registration deadline is Aug. 10.
The Lisbon Veterinary Clinic will check animals July 26 for the Canfield Fair. The next meeting of the Rangers 4-H Club will be Aug. 11. Members should bring their favorite 4-H project to show and families should bring a snack or dessert to share.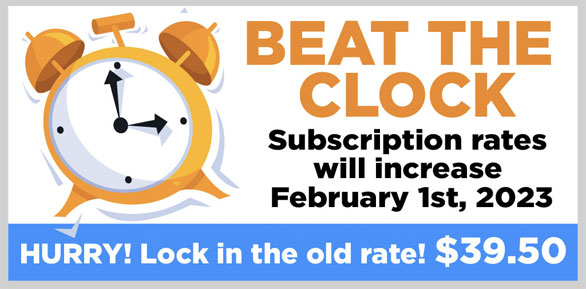 STAY INFORMED. SIGN UP!
Up-to-date agriculture news in your inbox!