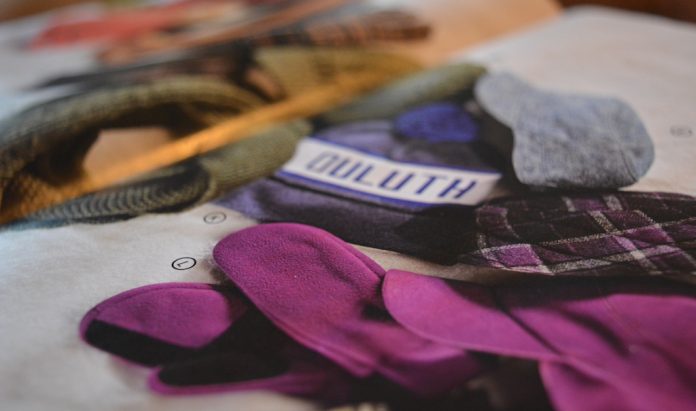 Commentary by Rebecca Miller
Let's face it. It's hard to find women's farm and work clothing. For years, I resigned myself to buying the smallest men's sizes I could find — especially pants. Forget worrying about whether the rise fit. I just wanted to make sure the dang things didn't fall off or trip me up.
So, I've followed the expansion of Duluth Trading Co. with interest. Founded in 1989, it has expanded to more than 40 retail stores throughout the Midwest and Northeast. Its first headquarters was on an old barge, in Duluth, Minnesota. Cool, huh?
Duluth has catchy, clever advertising and lots of work clothing choices for women. Those are two things I appreciate, having worked in marketing for a time. I also own and run a commercial sheep farm in Columbiana County, Ohio.
I want to like a company that markets the heck out of women's work wear. Really, I do. But something has stopped me from purchasing anything. I couldn't put a finger on why, until this week.
A couple of days ago, I stumbled on an Instagram photo, originally posted by @claraparkes, an avid knitter and a New York Times-bestselling author based in Maine. Parkes routinely draws attention to American wool and how it is processed and how it can be used.
Her post shows a label from a Duluth Trading Company fleece. There is a drawing of a sheep, with the words "Fleece-Infused" under it, and the quip: "No smelly animal fur here. Just soft, furnace-warm 200-gram polyester fleece."
Clara then followed up with an open letter to Duluth, linking to the company's profile. It reads, in part:
"I get that you want people to buy this coat that you've chosen to insulate with polyester. It's a business decision. I'm sure the profit margin is good. But please also know that the American wool market has been decimated by synthetics. It is at a 70-year low. But it is holding steady there, and it deserves our support. As more consumers become aware of just how devastating microfiber pollution is to our oceans, they're going to look to you for alternatives. You might even turn back to wool, which just happens to be wonderfully biodegradable, annually renewable, flame-extinguishing, stretchy, a great insulator, and it even filters air pollution."
The original post has garnered more than 3,600 likes and hundreds of comments. Agricultural advocates, especially sheep industry people I know, shearers, wool experts and others, have reposted, with hundreds of shares. It has spread to other social media, including multiple shares in Sheep Farmers, a Facebook group with more than 23,000 followers worldwide.
Reaction to Parkes' post has even made it onto at least one podcast, a Nov. 28 episode from Ballyhoo Fiber Emporium, in Kentucky.
It seems wool, or the lack of it, has gone viral.
I reached out to Parkes, and she responded in an email exchange.
She was alerted to the Duluth advertising by a friend who runs a sheep farm in upstate New York.
"As fun as it would've been just to post the ad with some snarky caption, and watch everyone come out with their pitchforks, I realized this could be an opportunity to bring Duluth into the conversation," she wrote in her email.
As for reaction? By the evening of Nov. 28, it was more than seven times what her feed usually garners. The post had about 27,000 views. She had gained more than 200 new subscribers. As of Nov. 29, it was at 3,600 reactions and counting. But she said she had heard nothing from Duluth.
I asked her why she thought it was getting such a response.
"… For many of us, wool is at the heart of our passion. It's especially frustrating when you know just how good and noble and just plain RIGHT wool is — for our bodies and for the environment. To see people suggest that a plastic is better?"
The sheep industry may be small in the U.S., with about 6 million sheep and 88,000 farmers and ranchers, but the annoyance we feel is a similar frustration felt by dairy farmers, who are struggling to keep their livelihood viable, all the while combating misconceptions about animal husbandry and the infamous almond milk craze.
To be fair, Duluth does carry some wool products. Their most recent catalog features wool on the first three pages. This particular tag does not appear to be new. But such is the power of the viral social media post these days.
I contacted Duluth and was directed to Turner PR, which handles media inquiries for Duluth. A spokeswoman responded with, "Unfortunately, Duluth Trading Co. is not able to comment at this time, but we'll certainly reach out if that changes."
Even as the viral wave rolls on, Christine Gelley, a beginning farmer from Guernsey County, posted a caution on Nov. 29 to fellow shepherds on Facebook, pointing out the prominence of wool in Duluth's most recent catalog. In follow-up comments to me, she said she and her husband purchase clothing from Duluth — and she's taking the fleece marketing with a grain of salt.
"When things like this happen, it shows how upside-down the general public's view is and how people in marketing forget how intertwined the food and fiber markets are," she said.
She's not ready to abandon them just yet.
"It's amazing how a tiny thing can flare up tempers in any community," Gelley said. "I'm sure Duluth didn't mean to be insulting to the industry, but they were."
I've been mulling over this dilemma for some time. I am a distance runner, a hiker and backpacker — and, of course, a farmer. I've tried just about every base layer and article of athletic and work clothing out there. Plain and simple, synthetic fabric doesn't work for me.
But it's not just about that. Almost all of my income comes from producing meat and fiber. I want to support other hard-working farmers. I buy dairy often. I shop local for meat, staples and other items as much as I can.
Every penny does count, especially for farmers. I just find myself thinking of who made the items I eat and wear more often now — and how my purchase may impact their livelihood.
I can appreciate a company like Duluth — it is doing something different and attempting to do it in a unique way. Here's why I think I never pulled the trigger on a purchase from there, and may not, ever:
The price point on some clothing there isn't that much cheaper than something I could buy from Duckworth, a family-owned, American-made clothing company that sources Montana-grown fine Rambouillet wool. What about socks from Darn Tough, a Vermont company that sources its wool partly from American sources and makes its socks in-house? Not to mention Red Ants Pants, a company with U.S.-made women's work pants that has become a growing influence in women's initiatives in rural Montana communities.
There are others. Some are more well-known than others. But they're there. Even here in Ohio, Pennsylvania and West Virginia. There are people making good, quality products. Heck, I found a deodorant from a western Pennsylvania company, Stinkbug Naturals, that works better than any mainline product I've tried.
I'm realistic. It's not an easy thing, especially in the heart of Christmas shopping season. Every penny does count, especially for farmers. I just find myself thinking of who made the items I eat and wear more often now — and how my purchase may impact their livelihood.
That is what I want people to think of when they buy my lamb. It's the least I can do for others as well.
***
(Rebecca Miller is a full-time sheep producer in Columbiana County, but also works occasionally as a writer/reporter for Farm and Dairy.)
STAY INFORMED. SIGN UP!
Up-to-date agriculture news in your inbox!