Editor:
The following information about the Humane Society of Columbiana County (HSCC) was published recently. One fact needs to be made clear. This service is provided to the citizens of Columbiana County over the land area of 532 square miles at no cost to taxpayers.
HSCC operates totally by private donation dollars and does not get support from any other organization such as the Humane Society of the United States.
One part-time humane agent traveled more than 10,000 miles in order to attend to more than 40 calls per month. Agent Palmer investigated concerns involving more than 480 animals at no cost to taxpayers.
Many times she educates the pet owner or provides straw or food until other arrangements are made. Some cases involve transporting the pet to get immediate medical care, and taking legal action through the court system.
More than 3,000 phone calls were handled by HSCC staff and volunteers. Information about spay and neuter, adoptable pets, upcoming events and pet concerns is provided. At the same time, these individuals cared for 198 animals that came into the possession of HSCC a minimum of three times per day at the ROCC and Rescue Center at 1825 S. Lincoln Ave. in Salem.
Pet introductions, home visits, vet record checks, temperament testing and compatibility were checked for more than 183 adoptions and 45 rescues, all at no cost to the taxpayer.
Only two pets were euthanized due to untreatable medical condition.
Vaccinations, micro-chips, spay and neuter, medical treatment, and vet appointments are included in the modest adoption fee which rarely covers the expenses associated with the pet, all at no cost to the taxpayer.
When funding and space allow, stray pets, or pets destined for euthanasia at other facilities, are rescued all at no cost to the taxpayer. Now, HSCC needs financial help.
Although the humane agent will remain on the road to answer calls of concern, other services offered to concerned citizens will be curtailed.
Many stories are told to us of worry and sleeplessness due to conditions of neighboring animals or strays. HSCC tries to help.
Recently, a volunteer trapped and provided vet care to a stray cat that was of concern to an elderly citizen. That cat now awaits adoption at HSCC.
The number of animals we can assist is directly related to the generosity of our donors. Animals are the window into the soul of every neighborhood. The quality of life in a community can be measured by their support of organizations such as HSCC. Please show your support today.
Jenny R. Pike
Butler Township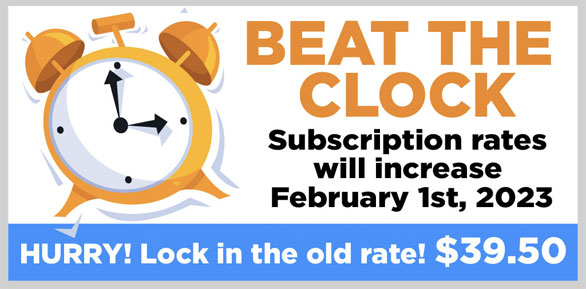 STAY INFORMED. SIGN UP!
Up-to-date agriculture news in your inbox!