By DARRIN YOUKER
Contributing Writer
SALEM, Ohio — With its abundance of maple trees, and proximity to markets, New York State could rival Vermont and Quebec in maple syrup output. But there are still barriers to growth, and a lack of historical production in some areas, that is causing the state to miss out on that potential.
In a recent study, Michael Farrell, director of Cornell University's Uihlein Forest, a maple research farm in the Adirondack Mountains, found that New York State was vastly under-tapping its ample maple trees. The maple industry generates $12 million for New York, but could explode to $92 million if the state realized its full potential, Farrell said.
"There are some counties where there is an enormous potential of trees, but very little production," Farrell said.
Grants on horizon?
Recently, New York's U.S. Senator, Charles Schumer, introduced the Maple Tapping Access Program to encourage the further development of maple sugar production.
Schumer is planning on including the Maple TAP Act into the 2012 farm bill. The legislation would provide grants to states that create new programs for maple farmers to access trees on private land that are currently untapped.
The legislation would also allow for the creation of grants to states to support education and resources that sustains the maple-sugar industry.
Economic opportunity
In a prepared statement Schumer said he created the act because New York's maple trees are significantly under tapped.
Part of the problem, the Senator said, is maple farmers cannot access some trees on private land.
Not cheap
Starting a maple sugar business from scratch can get expensive, Farrell said.
But, with the right funding and interest, New York could become an even larger player in the maple sugar industry, Farrell said.
For his economic impact study, Farrell looked at maple production in Clinton County, in Northern New York along the Vermont border. Based on those production numbers and the number of trees across the state, Farrell figured maple sugaring could become a $92 million industry.
There are close to 300 million maple trees in New York, but less than 2 million are tapped, he said.
"Eventually, New York could rival Vermont and Quebec," he said. "Given the number of trees, we could dwarf them. We just don't have as many people interested as they do."
As well, New York has excellent proximity to major markets, Farrell said.
Places like western New York, and the Adirondack region, have a strong maple sugar industry, Farrell said. But the Catskills, and places in the Finger Lakes, hold a number of trees, but a smaller number of producers, he said.
"In some places, sugaring is not part of the culture anymore," he said.
But, the growth in the industry is coming from individuals who do not have a traditional farming background, he said.
"The people getting into it are generally not farmers," he said. "They come from a lot of different backgrounds."
Gaining access
Perhaps the largest obstacle to the expansion of the sugar industry in New York is access to trees, said David Campbell, president of the New York Maple Producers Association and who operates a maple sugar house in Washington County.
A lot of large landowners decide to manage their wood lots for timber, rather than leasing for sugar production, believing it is a better investment, Campbell said.
But, the maple sugar lease often proves to be more profitable, he said.
Washington County, near the Vermont border, has a healthy sugar industry with about 100,000 taps, but there is still room for growth, Campbell said.
"I think we could double the production in the state," he said. "There is a lot more syrup being consumed in the state than what is being produced."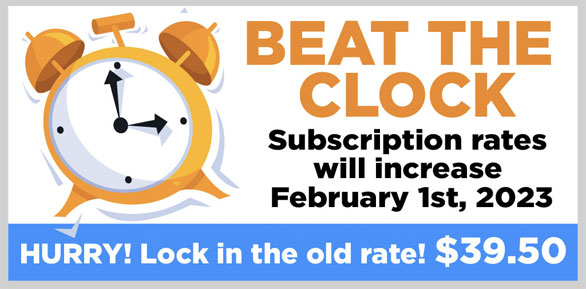 STAY INFORMED. SIGN UP!
Up-to-date agriculture news in your inbox!