PITTSBURGH — A farm in the city? Yes, and just like other farms, the first step in converting land to fields is removing the "rocks." This fall volunteers are doing just that, preparing part of a 107-acre plot to be Hilltop Urban Farm, by removing rocks and debris from the land and cutting down trees and shrubs on the ungroomed acres. It is soon to be the largest urban farm in the nation, said Sarah Baxendell, the farm's manager.
In August the Hilltop Alliance, a nonprofit organization, hosted a ribbon cutting ceremony to make the official opening of the Hilltop Urban Farm in South Pittsburgh.
Discussions began in 2012 about what do with the space, which was once used for subsidized housing, that was demolished in 2010. After a feasibility study was conducted, Baxendell was brought on to serve as the alliance's green space manager in 2015.
"You can tell where the buildings were in some places — rocks, foundations and pipes still exist," Baxendell said.
Land access
There are 107 acres, in Pittsburgh's St. Clair neighborhood, owed by the city's Housing Authority. The Hilltop Alliance has started to clean it up under an expanded site access agreement.
The Allegheny Land Trust will eventually hold the property in perpetuity and will have a lease agreement with Hilltop to operate. The project is projected to cost $9.9 million, said Baxendell. The plan is for 23 acres to be farmland, 12 acres to be used for green spaces and the rest potentially for new housing.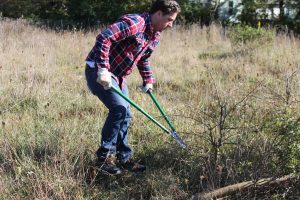 Baxendell is the seventh generation to live in this neighborhood. Her father grew up three doors down from the gate of the farm. She has a degree from the University of Delaware in business administration and marketing. She has also worked with the University of Indiana in their urban agriculture programs.
Big plans
The land has been surveyed and divided into different areas.
The Hilltop Alliance has big plans, which include; a three-acre community supported agriculture farm (CSA), three-acre farmer incubation program, one-acre youth farm, a farmers market building, 5,000-square-foot event barn, stormwater retention ponds, fruit orchards, community gardens and an education center. The events barn will serve as a revenue generating resources to offset the costs, she said.
Youth farm
The youth farm will be the first focus.
"Across the road from the site are 665 elementary students within our reach," Baxendell said. "We plan to partner with the school, teach the kids about horticulture and get their hands dirty."
The plan is for the youth farm to provide after-school and summer programs for families to learn about raising food, nutritional information and get a chance to work outside.
Farm incubator
In the farm incubator program, the alliance plans to divide the area into 16 plots and start with eight people interested in farming.
They are working with the Penn State Center at Pittsburgh and the College of Agriculture as they already have farm training programs.
"We are taking some of PSU's existing programs and curriculum and making some adjustments for our needs," she said.
In the farm incubator program, participants will pay a nominal fee to be provided land and resources to start a farm. "The goal is to give them a test run at farming to see if it is something they want to do long term."
There are several hurdles, like city zoning, Baxendell has to overcome first. Right now, she can't create any permanent structures or do any digging.
The Hilltop Alliance represents 11 South Pittsburgh neighborhoods, each neighborhood has a seat on the board.
The alliance focuses in three areas; green space, property stabilization and business development.
Volunteers
Sept. 29 was the first volunteer day. More than 20 volunteers picked up rocks from the fields, mowed, trimmed weeds and worked to chop down bushes and trees.
"All of the trees and bushes will be chipped and then the chips will be spread back over the field as compost," Baxendell said.
Andy Collins, a volunteer, who lives in Penn Hills, a neighborhood east of Pittsburgh, worked to clear the site of the future youth farm.
"I heard about the project and thought it was pretty cool. I wanted to come out and do my part to make it happen," he said.
Some areas have been tilled and compost spread and cover crops planted.
Progress
The Hilltop Alliance and contractor Go Supreme, owned by Amy Mangham of Beltzhoover, another Pittsburgh neighborhood that is part of the alliance, have cleared more than five acres of brush, laid compost and planted cover crops.
"I just can't wait to see the entire thing come together," said Mangham.
Today, in cleared fields you can see rye, radishes, oats and winter peas growing as cover crops.
Funding for the project has come from Hillman Foundation, PNC Foundation, The Heinz Endowments, Birmingham Foundation and Neighborhood Allies.
"I've been working on this for three years — 60 hour weeks — and this isn't my only project," she said.
"Success will be having an infrastructure established in a year, so in five years we have farmers ready to go out on their own and be successful financially."
The farm will focus on food-production education and youth engagement, a huge value to communities like these, Baxendell said, with youth who may have never seen a tomato on the vine.
STAY INFORMED. SIGN UP!
Up-to-date agriculture news in your inbox!