AVON LAKE, Ohio — Being a winemaker means facing new challenges every day. In fact, Lee Klingshirn's parents, Allan and Barbara, discouraged him from taking over the family business, Klingshirn Winery in Avon Lake. "They told me, 'Lee, you don't want to do this, there is not enough money in this,'" said Klingshirn. "But it was here, so why not stay on the family farm."
Today, Klingshirn and his wife, Nancy, grow 14 acres of grapes and produce up to 10,000 gallons of wine and juice a year at Klingshirn Winery, located about 1 1/2 miles south of Lake Erie in Lorain County. Eight of those acres include the original Concord grapes that have roots dating back to before Prohibition, when the Lake Erie shoreline in Northern Ohio was considered the grape-growing capital of the country, said Lee.
History
Lee's grandfather, Albert, purchased the farm in the early 1920s with those eight acres of Concord grapes already growing  on the farm. When Prohibition hit, Albert and some neighbors purchased a wine press, which stayed on the Klingshirn farm. The neighbors would bring their grapes to be pressed along with the Klingshirn grapes and everyone would take their juice home to make wine for their own enjoyment, explained Lee.
After Prohibition, those same guys that brought their grapes to Albert's farm to get pressed said to Albert, 'why don't you just keep that juice until it turns into wine and we'll come back and take it home then," said Lee. "So (the farm) became a winery by default." Klingshirn Winery was established in the fall of 1935.
Lee's father, Allan, helped out with the winery and found himself practically running the business at the age of 18 after his father, Albert, suffered a couple of strokes. Allan would purchase the winery from his father in 1955. When it came time for Lee to consider joining the business, both his parents discouraged him from getting into the business for fear that he would not make enough money. But Klingshirn wanted his turn with the family vineyard and, "it was already here, so why not."
New grapes
Klingshirn went off to Ohio State University, where he majored in viticulture and enology and interned with some of the top viticulturists in the state at the time, at the Ohio Agricultural Research and Development Center (OARDC), in Wooster. Some of the hybrid varieties OARDC was developing in the '70s and '80s made their way back to the Klingshirn vineyards with Lee.
The Klingshirns tiled and drained fields and planted over two acres of Vidal varieties, some Delaware varieties and a couple acres of riesling varieties.
"We did fairly well with all of those for 15-20 years and then we had the polar vortexes," said Klingshirn. Klingshirn said they plan to replant those three acres worth of hybrid grapevines this year, but don't expect any production for a couple years. "It takes five years for a new baby vine to grow up to be in full production," said Klingshirn. So a winery, "is kind of a long-term investment."
Expanding
In the meantime, the winery was growing. Lee's father added onto the original wine cellar and bottling areas — originally built in 1945 — and expanded the winery by four times its original size in 1978. "He knew at that point that I would probably be coming back to take over the business," said Klingshirn, which he slowly began to do in the late '80s to early '90s.
"My dad is still around, but he was more than happy to give away the responsibility of running the business."
Award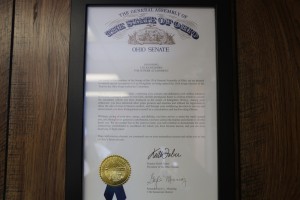 Since taking the reins, Lee Klingshirn earned himself the Ohio Grape Grower of the Year award, this past December, from the Ohio Grape Industries Program. Ohio Grape Industries is a state-funded program that promotes all Ohio grape products. During its annual winter conference in December, the group decided to honor one grape grower and one winemaker based on nominations from fellow winemakers and grape growers.
"This was the inaugural year; the first time they ever did it and they picked me," said Lee Klingshirn, who was happy to show off his Senate proclamation hanging on the wall. He feels the main reason he received the award is because, "I've always been a team player."
Building an industry
When Lee Klingshirn came into the industry in the late '70s and early '80s, the number of Ohio wineries had declined, he said. There were just under 30 wineries in the state and of those remaining wineries, half of them came together to form the Ohio Wine Producers Association (a marketing and membership based organization) which Lee was a part of. The association helped fellow wineries with marketing and promoting their wine businesses. Lee is still a board member.
Enjoyable business
One of the things Lee enjoys most about the business is the variety of things to do. "No two days are the same, but on the other hand, a lot of days are similar," he said. The winter months can mean spending long hours in the vineyards trimming grape vines. All the trimming and pruning is done by hand "so when we're up to almost 18 acres, between me and a couple other helpers, that is pretty much full-time winter work."
One vine at a time, it can take up to 24 long man-hours per acre, he said. "That's the tedious, boring part of the job, but I've never minded it." He said he uses the time to "let his head wander" and think about all of life's solutions, which could include thinking up how to create that next perfect bottle of wine.
Challenges
Along with growing quality grapes and crafting that perfect bottle of wine, Klingshirn says one of the biggest challenges he faces now is the encroaching city. "We used to be one of 12 houses on this street and nothing but farm fields on the other side," he said. But coming into the winery from the east (off of state Route 83) customers find themselves driving through a small development. During the harvest season, he has had some complaints when he is running his refrigerated trucks a few months out of the year, to store his grapes.
Harvesting
But the harvest season also provides an opportunity for the community to get an inside look at the grape production. Harvesting starts around Labor Day and is done mechanically with a large machine "that looks like a tractor on stilts," said Lee. The grapes are brought to the back of the winery where customers can see how the grapes are pressed and the juices are stored to begin the wine-making process.
One of the things to note about Klingshirn Winery, is that it is not one to boast a large welcome center and lounge area. Instead, a small room to the front of the winery is designated as the storefront, where customers can sample wines and pick out their favorites. Lee has no plans to change his business setup, leaving most of his attention to the grapes and the wine.