It may seem early, but snow could fall as early as the second week of November in the Midwest region, according to the Farmer's Almanac.
Driving in snow, sleet and ice can be hazardous as visibility diminishes, black ice covers roadways, white out conditions occur and other drivers make reckless choices. In order to prepare yourself for a safe winter on the road, the National Safety Council recommends checking these parts of your vehicle:
1. Engine oil
During the winter, engine oil should be slightly thinner than what is used during the other seasons. Your car's manual will provide specifics about the best oil to use in your vehicle.
2. Brakes, hoses, belts and filters
Routine checks for brakes, hoses belts and filters should be completed before winter.
Test your brakes to ensure that they are working properly. Replace brake pads if they show significant wear. Also, make sure that your belts and hoses are working properly. Changing oil and air filters will help to keep your engine in good shape.
Related story: Beat the snow: tips for driving on winter roads
3. Visibility
If you notice that your windshield wipers aren't doing a thorough job, or if you know they're over a year old, replace them before winter. Make sure your windshield wiper fluid reservoir is full, too. Check that your defroster and your heat are working properly so that you can see clearly out of your windows.
If you don't have a garage or can't fit a vehicle into your garage, consider purchasing a car cover or windshield cover. Windshield covers can be purchased for as little as ten dollars. Car covers vary in price, depending on the size of the vehicle.
4. Battery
Your battery needs to be up-to-par for winter. Avoid a dead battery by replacing your battery if it's more than three years old, having your battery's connections checked and minimizing the accessories in your vehicle.
5. Tires
Summer tires aren't designed for snow and ice. For safer winter travel, purchase snow tires, or at least all-season tires.
When the temperature drops, you lose tire pressure. Check your owner's manual for the right tire pressure for your vehicle. Take a look at the treads on your tires and the wear on your tires' sidewalls.
6. Antifreeze
Antifreeze should be a 50-50 combination of water and coolant. This mixture will protect your car's engine, and it won't freeze during low temperatures.
Be prepared
Weather conditions can change quickly, so it's best to know where you're headed, how to get there and how long the travel time will be.
Prepare an emergency kit to keep in your car at all times in case you break down or are stranded in a snow squall.
Your emergency kit should include:
An ice scraper and a small shovel
A spare tire with air in it, or at least a flat-tire emergency repair kit
A tire gauge
Tire chains
A tool kit
A flashlight
Flares
Jumper cables
Engine oil, wiper fluid and coolant
An extra set of windshield wipers
Blankets
An extra set of warm clothes, plus boots and gloves
Bottled water, non-perishable food and hard candies
First aid kit
Paper towels
Keep your gas tank full and your car completely cleaned off before heading out on the road. Also, consider putting sandbags in your trunk to improve traction on slippery roads.
By winterizing your car, you're increasing your chances of safe travel, and also helping to keep others safe on the road.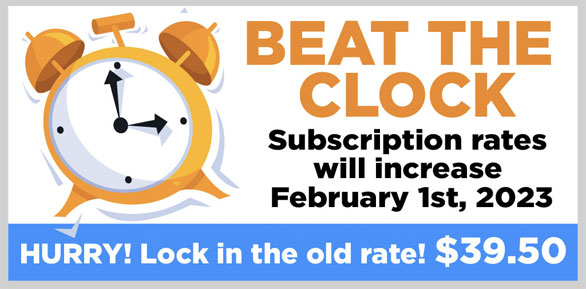 STAY INFORMED. SIGN UP!
Up-to-date agriculture news in your inbox!