Winter is upon us. At least that's what it felt like after the mid-November arctic blast and snowfall. That was too cold too soon, and highly reminiscent of last winter's persistent polar vortex that seemed to drag on well into what we called "Spring 2014."
On the other hand, Ohioans should expect this by now. Winter never passes us by and we'll all have to batten down the hatches for the cold months eventually. Still, wouldn't it just be nice to have a few extra days to tie up the loose ends?
But after it's all said and done and agriculturalists around the area have slowed down for the season, what is there to do? No one wants to be stuck around the farm day in and day out.
With outdoor work hampered by conditions, the next best thing one can do to get a jump on next spring is to start planning. Conservation planning on farms should not be tied down to a specific season.
Always something to learn
With a little more free time in the winter, some of us could use this as an excuse to get out to a local workshop and educate ourselves.
Soil and water conservation districts, Extension offices, Farm Bureau chapters, even private businesses all host a great variety of winter meetings and workshops aimed to educate the public on a wide variety of topics. Whether you're a grain, dairy, beef, pork or poultry producer, these informational events may be of use to you.
Your best bet, if you're looking to get off the farm a few cold nights this winter, would be to contact one of these agencies and ask what events they may be hosting in the near future.
Lots of planning and focus on current hot topics go into these and good attendance is always appreciated.
Socializing important, too
Maybe the most appealing aspect is that a lot are centered around wholesome meal that, if you're lucky, may even be free.
And there's typically a great opportunity to socialize. Truthfully, that's where most good ideas spread — through the grapevine. If a friend tried something and it worked, you'd be more inclined to try it too, probably more so than if you learned it from a stranger who happened to be an expert in the field.
This winter has just begun and we're sure to have some cold dark days. But with some planning and insight, you and your farm can emerge in spring stronger and ready to improve upon last year's success.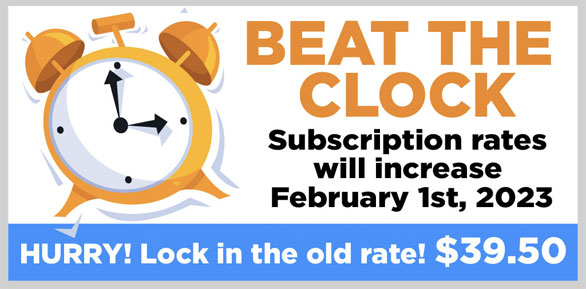 STAY INFORMED. SIGN UP!
Up-to-date agriculture news in your inbox!