Today, Mr. Wonderful and I celebrate our 19th wedding anniversary. This isn't an officially designated party number like, say, 25 or 50.
For 19 you get shoelaces and a bag of Twizzlers, as near as I can tell.
We have now been together long enough to have a deep and colorful history. We know things. We share friends and family and two breathtaking children who make our hearts ache with love and hopes for their own safe and happy future.
That said, people who say melodious things such as "easy like Sunday morning" have never tried to get small children ready for church. I would be better to put a bow tie on some chickens and herd those into the rear pew.
Sharing responsibility
A happy marriage for me includes being in it with the one person who is equally responsible for herding these chicks into pants, pews, and responsible adulthood.
The one person who, if any threat should come to our children, I could count on to make my bail, assuming he isn't sitting in jail beside me.
A secret
It's normal when you've been together this long that people ask how you make marriage last?
The answer? I have no idea.
To be honest I think it's a blend of commitment, love, luck and sheer tenacity. I have always loved him but there were certainly moments I didn't "like" his behavior very much.
Like when he decided to disappear to clean out the barn right before a big house party, or decided to teach the children to crack a pineapple along the front of my kitchen counter tile (for the record this will delight two small children but generally disappoint mommy).
He has been known to tell me stories about myself, as if I wasn't there.
"This one time, with this girl I used to date …".
"Honey that was me," I remind him.
"No? Really? Well this other time we went to …"
"Still me, dear," I say.
Strangling him
Honestly there are moments that I think I could cheerfully strangle him if he thrusts his phone at me and tells me "just watch this video real quick."
"Watch this video" has become the modern day equivalent of having someone read newspaper stories aloud to you — whether you wanted to hear them or not. The thing is? It's important to remember that he has just as many stories of this ilk about me — if not more.
I'm moody. I hold grudges. I tend to drive our vehicles into things.
Ditches, mostly but I'm not against hitting poles, either.
He would wear the same four pairs of jeans in rotation if I would let him. I prefer a little more style and my love for uncomfortable shoes makes him crazy.
Still, for more than two decades as I teeter along in what are invariably precariously wrong footwear, for whatever we are going to do, he holds out his arm to hold me up and steady me.
He buys my favorite candy and checks my tires.
All I want
At the end of the day, and after all that, I couldn't imagine not wanting to have him around thrusting videos at me, being comical with coconuts to the detriment of our decor, and deciding that the barn is the safest place to hide out from my over-the-top pre-party hostess hysteria.
He balances me — on heels and in life.
I don't think a great relationship is about how you handle yourself on the first date, the first anniversary or the milestone days. It's about how you handle the "more month than money" days. The sick kids. The sick dog.
The time your wife backed into a wall. The time your wife drove the car into a ditch. The time your wife … well, you get the picture.
It's not about cooking together like a sitcom couple. It's about going on a diet you don't need because she did. It's laughing at the same old stories (and reminding each other that yes, you were there).
It's crafting a life and appreciating your history and, most importantly, it's knowing that if your life was a video you would absolutely want someone to ask you to watch it over and over again.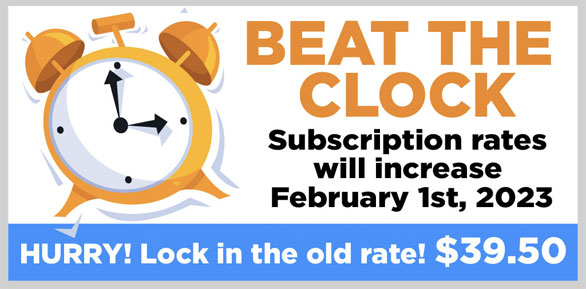 STAY INFORMED. SIGN UP!
Up-to-date agriculture news in your inbox!