I have a new name.
I haven't heard it here at work (yet), but I hear it nonstop at home.
One day, I turned on my cellular phone and there it was, staring at me for just a second before the system booted up: Freak.
I typically hear the endearment when I inquire about the really unusual. You know, the homework, the volleyball practice, the math quiz.
"Mom, you are such a freak!" declares the 15-year-old (15 1/2, pardon me).
My 13-year-old son, usually so quiet and gentle-natured, joined in. "You are! You're such a freak."
They are allies, these children I brought into this world, united in a goal to make sure Mom doesn't embarrass them in public.
Husband Keith looked like he was about to say something when he wisely closed his mouth.
He was, after all, in the throes of preparing for a seven-day Canada fishing trip. Not that I was packing for him, mind you, but I could still sabotage his plans.
I'm not alone. It could be worse, I remind Annette. I could have been the mother who drove your group to Olive Garden before homecoming last year. Remember her? You guys had called ahead for reservations, and when she had to wait to be seated, she squeezed in a chair for herself at your table instead.
Now that's a little freaky.
The freaks really start flying when I, heaven forbid, ask about a young man I happen to find eligible.
What's wrong with him? He seems to be really nice. He goes to our church… why don't you like him?
I was doomed. It was a one-way ticket to freakdom.
I'll probably see my own mom there. She's no longer a freak, but I'm sure I transported her there 27 years ago. I think it's a lifetime sentence.
It's a mom thing. I'm not sure how mothers get to be freaks. Dads are never freaks. But then, dads don't ask their daughters about boys.
Dads don't want to hear about boys. If they don't ask about them, they can pretend boys don't exist. And off they go to Canada.
Card-carrying member. Out of curiosity, I plugged "freak" into the Web's Google search engine. The first hit, I kid you not, was an interactive quiz to see how much of a freak you are. So I took it, still trying to figure out exactly what a "freak" was.
True confessions: I had an overall freaky score of 52, which "indicates you have a higher need-for-uniqueness than 51 out of 100 people."
There's more. "You prefer to conform to others' standards, but don't mind acting differently occasionally." and "You are typically respectful when you disagree, but are willing to speak your mind if it is appropriate."
Yikes! I think I've been a freak all my life!
Until they outgrow their teens, or until I generate superpowers, I'm holding on to my Freak title with pride, although I secretly yearn for the next level: Super Freak (sing it, Rick James!).
I think I might be getting close.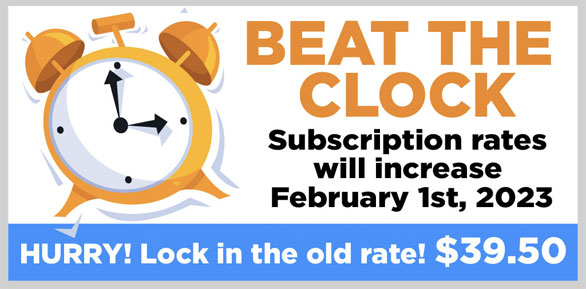 STAY INFORMED. SIGN UP!
Up-to-date agriculture news in your inbox!