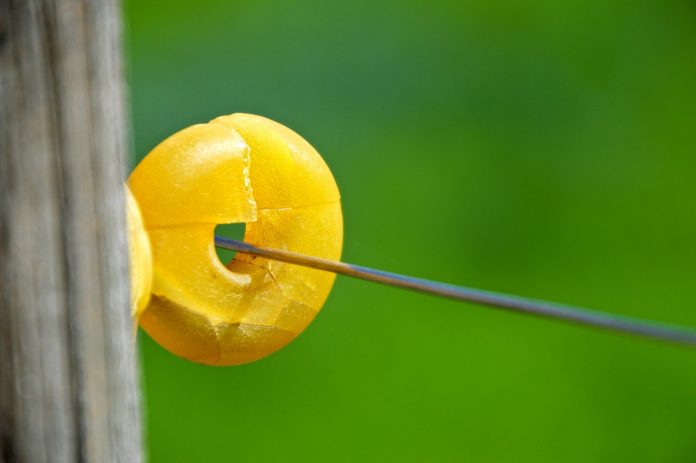 Is your fence hot? I'm not trying to make a joke analogous with  "Is your refrigerator running?" Having a "hot" fence simply means your electric fence is working correctly and sending strong current to everywhere it is supposed to. As we kick off grazing season and let livestock out to pasture after a long winter, it is important to take stock of your electric fence and make sure it is doing its job. Whether you are using the same old pasture fence, installing a new electric fence, or are completely new to the game of using electric to contain animals, this article will share some basic information that we could all use to ensure our fences are hot. And if your fence is already hot, you best give it a cool drink (I'm sorry I couldn't resist).
The Electric Fence System
An electric fence is used to keep animals in (or out of) a specific location. In the simplest form, an electric fence consist of 3 parts: the energizer (or fence charger), a ground, and wire fencing in a closed circuit.
Energizers
When considering an energizer, there are three main options to choose from: plug-in chargers, solar chargers, or battery chargers. Of these options the plug-in is still likely the best bet, as they are usually cheaper to purchase per amp output. Solar and battery-powered chargers are helpful in remote locations away from power sources. The technology has gotten much better over time and will continue to improve while costing less and less.
Most chargers sold will advertise the joules they provide and the 'miles' the charger would cover. When comparing two chargers and when designing grounding rods, use joules not miles, as this will give you a fairer comparison.
Old chargers used to be high impedance. These are easy to short by the fence contacting vegetation. Some had longer pulse rates, which led to accidental fires. New chargers on the market are low impedance and provide millisecond fast pulses that are less prone to short outs and safer for fires and animals that are in contact for a long period of time.
Grounding
Not properly grounding your fencing system could lead to poor results. Two main factors to consider when grounding your fence are the output capacity (joules) of the charger, and the conductivity of the soil. The greater the charger's output (more joules), the more grounding rod is needed. A minimum of three feet of grounding rod per joule is recommended. Grounding rods should be installed at least ten feet apart. Wetter ground is better than dry and sandy soil. In dry, sandy, or rocky areas you may need more rod installed. It is recommended to use galvanized steel or copper, and not aluminum for your ground. Use the same wire connected to the energizer as the grounding rod itself to minimize corrosion.
Fencing
When building a proper electric fence, you are effectively building a closed circuit. The fence completes the circuit when it is connected to the positive terminal of the charger, and the ground rod in the ground. When an animal contacts the fence it effectively closes the circuit by letting the energy pass through to the ground. This is why birds can sit on the fence without being shocked.
There are many options for fencing these days: single wire, multi-wire, high tensile, woven wire, polywire/polytape, or electric netting. The fence you use should be based on the animals you are looking to fence in/out. Whichever type you choose, you then must calculate how many miles of fence you have. For a single wire, you simply measure the perimeter of the fence, for multiple wires, multiply the perimeter by the number of wires used. Netting or other options will likely have the number of joules required to properly power them.
Please note that barb wire should never be electrified. You could be considered liable for any animal or person if they were caught in the fence.
Checking your fence
Regularly checking your fence is important for maintaining its effectiveness. If animals are not being deterred each time they contact the fence, they may start to damage and/or escape it. You can monitor voltage levels periodically using a fence tester and using a voltmeter or a fault finder in multiple locations to ensure the fence is operating correctly. Inspection of your fence, especially in the spring, to clear any fallen branches, or other issues, can help avoid escapes. Finally, regular maintenance, mowing perimeters, spraying herbicide, and replacing worn out or damaged equipment will help ensure your fence will continue to do its job.
Summary
In order to create the proper fence for your goals, take your time when designing it. By planning ahead, you can purchase exactly what you need for the fence and build an asset for your operation that could last 30+ years. If you already have an operating fence, make sure to provide needed maintenance and upgrades to ensure it remains effective. Regular testing and inspection are crucial in keeping your fence operating. If you have questions about fencing or building a new system, call your local county extension office.
STAY INFORMED. SIGN UP!
Up-to-date agriculture news in your inbox!