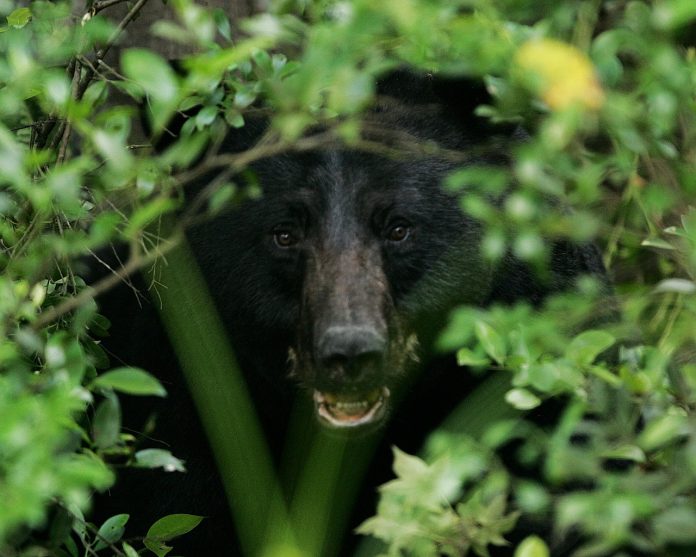 Regular readers know that I have one core mantra I live by. This is that nature is not to be trusted.
People are always nattering on about wildlife being our "friends." Do not believe this. The Disney trope is a trap.
Easter egg hunts are a little more "bear" able in Connecticut since a black bear ambled into a lawn staged for holiday fun. Giving new meaning to the term "mama bear," she made sure her cub got ALL of the winnings. Residents made the obviously correct choice to stand back and let the mother bear and her cub sweep the field, opening plastic eggs and eating ALL of the candy.
Also looking for easy access to food, a black bear in California broke into more than two dozen homes over a seven-month time period. Research tells us that bears entered homes 67 times. This is up from previous years when they entered 45 times. Just a decade ago, they still understood boundaries and entered maybe 10 or less times annually. Obviously, they have not forgotten the "Goldilocks and the Three Bears" trespass, and they are getting even.
Never one to let humans off the hook, wildlife experts assure us that it is important not to give bears easy access to food. It will, we are told, become a bad habit, leading the animals to become unafraid of people, overweight and hooked on fast food. So, basically like people — the willy-nilly laying of candy filled eggs once a year notwithstanding.
More sightings
In Pennsylvania, snakes were found in a bathroom wall at a Target store. I'm pretty sure that isn't permitted unless they are service snakes. We are assured that the snakes are healthy and active. I can promise you that if I run into a herd of snakes while shopping, their health and well-being will not be the first thing on my mind.
Zebras that were "on the lam" in Maryland were eventually captured but not until they enjoyed four months of freedom. That's right. It took four months to capture creatures who blend with almost nothing. So we know zebras are smart.
A turkey that had terrorized Washington, D.C., residents and attacked users of a bike trail eluded capture from five different law enforcement or wildlife agencies before finally jumping state lines and moving into Maryland.
I am not one bit surprised that multiple agencies were unable to capture and wrangle that thing. Turkeys, even domesticated, can be quite vicious. Wild turkeys are basically members of a murderous cartel.
Flashier fowl have also run afoul of the law. See what I did there? I'm a professional. A flamingo that flew away from a Kansas zoo nearly 18 years ago and has been on the run ever since was glimpsed enjoying retirement in Texas in 2022. The bird, named "Pink Floyd," liberated himself in 2005 when staff failed to properly trim his wings. It's clear that Floyd is thriving in the "wild." He's been in the pink ever since.
Raucous raccoons
In West Virginia, raccoons drunk on fermented crab apples caused a rabies scare. That is understandable. Most people, upon seeing a stumbling raccoon obviously disoriented, are understandably going to assume "rabid" and not "can't hold his liquor." Kudos to the person who had to administer Breathalyzer tests to raccoons.
I do wonder if the raccoons were also picking fights with random strangers and professing their love and loyalty to everyone in the ladies restroom. That's usually how it went in college bars, as I recall.
As someone who also cannot handle alcohol (it gives me a headache so strong I too could be mistaken as rabid), I have a number of reasons I also relate to raccoons. Raccoons and I both have dark circles, gray roots and will fight you for food.
Although there is one way raccoons and I do differ: in Florida there was a raccoon spotted riding the back of an alligator at the Ocala National Forest. I am going to pass on trying that. Gotta leave something to nature.
STAY INFORMED. SIGN UP!
Up-to-date agriculture news in your inbox!