Part II
(Read Part I here)
One interesting thing about the English Shepherd is the number of people who wish to find a pup just like the one from personal childhood experiences, but have no idea the name of this breed, making the search nearly impossible.
When the couple we recently visited in North Carolina decided to list their John Deere tractor online, Paul wanted to spark the picture up a bit to draw interest. He had chosen one English Shepherd male from the litter to keep, so he placed the pup on the seat of the tractor and snapped a picture. In no time, Paul and Rebecca received a response, though not the reaction they expected.
Almost given up
A young man named Matt said, "I am not interested in buying your John Deere, but I have been looking for years for a pup just like that one."
It turns out Matt lived in South Carolina, but had grown up in Kansas, and had enjoyed the companionship of a smart and spunky dog over the course of his earlier years. A long conversation prompted Matt to make the long drive to the Raleigh-Durham area. The young man was impressed and certain this was exactly the breed he wanted. He had nearly given up hope in finding the sturdy black dog with tan markings because he didn't know the breed name. Even the largest dog breed directories and encyclopedias rarely carry this once-common canine.
Matt was excited to learn more, and to know there are a few people in the heartland trying to keep this breed alive. Paul, with a bit of a heavy heart, agreed to part with the pup he had intended to keep. I knew exactly the feeling, because it's happened to me. The empty spot is filled with the joy of knowing the pup is appreciated, the search fulfilled for a happy family.
Why so unknown?
Part of the problem that has doomed this breed to rare breed status is this lack of name recognition. Once so popular on just about every stock farm (and when nearly everyone who lived outside of any city limits had a small farm), people referred to the breed in various ways. I've seen ads in old agricultural publications for "American stock dog" or "Scotch collie" or "farm collie" or "black collie."
Many times when we discuss the breed we love with new friends, they have no idea what an English Shepherd is. That is, until we show a picture, or our dogs come up to greet them.
"Oh, yes! My grandparents had one of these!" is a response we quite often hear.
Ironically, my husband grew up with a sweet, intelligent working dog that he assumed was a border collie. Shortly after we were married, I saw a picture of the dog, and it certainly piqued my interest when my father-in-law said, "That was such a great dog. He was an English Shepherd."
In looking at my grandmother's handwritten records, we found the very date my father-in-law bought the pup from my grandparents, separated by several towns and communities. It was an unexpected connection, to say the least. Somewhere along the passing years, the border collie managed to continue being recognized in dog publications, as well as Australian shepherds, heelers and other similar breeds. The more quiet, laid-back English Shepherd somehow went from being the most common stock dog to almost quietly disappearing.
When the female pup we named Rigby met our male Billy, the connection was immediate. She rolled over as he licked her face, and the male pup, Spencer, has become our female Channing's shadow, out exploring the farm fields, but checking in often. And all is right with our world up on this hill in the country.
Next week: finale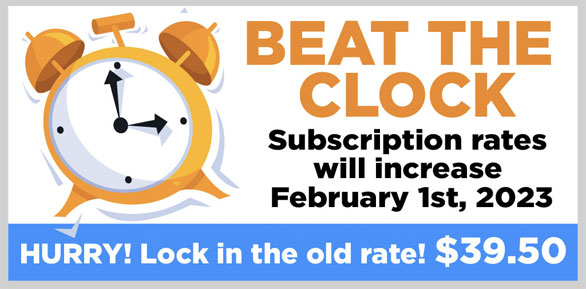 STAY INFORMED. SIGN UP!
Up-to-date agriculture news in your inbox!