Hello from Hazard!
After we went to press, we heard from a slew of readers who also correctly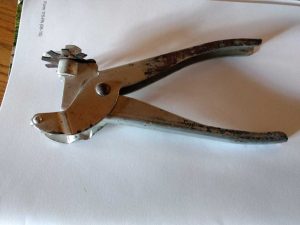 identified Item No. 1118, which we told you last week was a sp ark plug gap adjuster. You pick the gap size needed, and insert the plug into the tool. By squeezing the handle, it would properly size the gap.
Many, many thanks to: Butch Cherrington, Fredericktown, Ohio; Dennis Green, Akron, Ohio; Charles Kinsey; Don Jedlicka, Leroy, Ohio; Gary Klaus; Jay Haines, Lowell, Ohio; Robert Lahrmer, Stockport, Ohio; Paul Basinger, North Lima, Ohio; Brian Niles, Weirton, West Virginia; Mark Gerback; Gary Starkey, Alexandria, Ohio; Scott Simmons, Bolivar, Ohio; Rob Phillips, Washington, Pa.; Dino Lombardi, Pittsburgh; Wendy Lonce, Mineral Ridge, Ohio; and John Neidemire, Leipsic, Ohio.
(And if that list doesn't give you an idea of the geographic breadth of Farm and Dairy's family of readers, I don't know what does!)
---
Richard Bader, of Middletown, N.Y., isn't so sure Item No. 1117 is a wall-mounted broom hanger, as opined by other readers.
"After much research, I believe it went on a manure wagon (before the manure spreader)," he writes. "You would lift the ring and slide your shovel or fork into the ring to hold them upright while traveling to and from the fields to keep the handles clean. The hook in the center may have been used to hold the reins from the horses while spreading the load by hand. I have seem something similar to this on a wagon in a museum."
Hmmm. Anyone else want to weigh in?
---
And we haven't received any guesses on Item No. 1119, which we first showed last week.
Karen Barron, of Pullman, Washington, sent it to us, adding that she's shown it to at least 75 people, and no one can identify its use.

It's 7 1/2 inches long and the head is 4 1/8 inches long. It's rough cast, and the closure has been ground somewhat, but is not watertight.
Take another look at it, and email us your best hazard-ous guess at editorial@farmanddairy.com; or respond by mail to: Hazard a Guess, c/o Farm and Dairy, P.O. Box 38, Salem, OH 44460.
STAY INFORMED. SIGN UP!
Up-to-date agriculture news in your inbox!