I was in the office the other day when a gentleman came in with a bag of weeds wanting to know what was growing in his hayfield.
Weed identification is one of the biggest requests we get in the summer months. Weeds in the hayfield and pasture can be a nuisance, but when the weeds are invasive and trying to take over, they become a serious problem.
Some of the weeds producers in southeast Ohio have been fighting for a while now are spotted knapweed and hemp dogbane. If left untreated, both plants can take over and destroy a healthy stand.
Identification of such invasive plants is the first step in eradication.
Spotted knapweed
Spotted knapweed is often mistaken for plants like red clover and chicory, but it has some distinguishing characteristics that make it easier to identify, and then manage. Knapweed has a pink to purple flower at the end of a long-stemmed, leafy arm. These flowers will appear in a bunch, covering a plant. They can grow anywhere from less than six inches in height, up to eighteen inches tall.
Knapweed is biennial in nature, meaning that it doesn't flower in the first year of establishment, rather it creates a rosette, which is just a clump of leaves. In the rosette stage, knapweed can be very difficult to identify, as the shape changes a bit in nature as the plant matures.
Although spotted knapweed is not necessarily toxic to livestock, it is still a weed that needs to be eradicated as soon as possible. Knapweed produces toxins at its roots which stunt the growth of nearby plants and displace native species. If left untreated, it won't take long for spotted knapweed to destroy an otherwise healthy hayfield.
Hemp Dogbane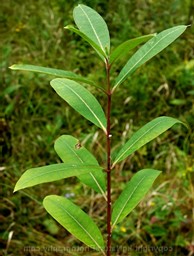 Hemp dogbane is closely related to common milkweed, but the leaves are smaller, and the stem is woody and branched in the upper half of the leaves. Their reddish stems contain a milky sap, and they have greenish-white flowers that develop into two long pods containing numerous seeds. Hemp dogbane is spread by seeds and rhizomes.
Though there is a belief that hemp dogbane is toxic to livestock, a recent study by OSU's College of Food, Agriculture, and Environmental Science has proven that incorrect. While there are properties of hemp dogbane that have a toxic nature to both humans and animals, no research has shown how those compounds work within the plant to make it truly a threat.
Management
Luckily there are ways to control spotted knapweed and hemp dogbane including herbicides and clipping. Several board-leaf herbicides are available without the need for a commercial applicator's license.
However, there are considerations that each producer needs to think about when using chemicals to treat any weed. Some of those things may include hay restrictions, seeding restrictions and grazing restrictions. All these factors can be important parts of your operation and will vary from one producer to the next. Always follow the label when it comes to chemical application.
Mechanical means, like clipping or mowing, are not as effective on spotted knapweed as they are on hemp dogbane because they can bloom lower than the height of the mower deck. The key to mowing is to clip the weeds before the flower forms.
There is no simple answer to getting rid of invasive weeds. It may take several growing seasons, but persistence is the key. Many soil and water conservation districts have sprayers for rent to help with control. Contact your county's soil and water or extension office for more in-depth advice and to help get an eradication plan in place.
STAY INFORMED. SIGN UP!
Up-to-date agriculture news in your inbox!