Want a unique appetizer for that upcoming Super Bowl party you're invited to? Candied bacon is the answer.
People have been making a big deal out of bacon for some time now. It's a prized breakfast meat and it's finding its way into lunch and dinner menu items, too.
If you look up 'candied bacon' online, you'll find dozens of different recipes. There are variations of the recipe, with some using dark brown sugar or freshly cracked black pepper. If you're a bacon lover, you really can't go wrong with the ingredient combinations you choose, but your first attempt at the recipe may not turn out how you planned.
The recipe for candied bacon that I followed is adapted from Ina Garte
n's recipe (you've probably seen or heard of her Food Network show, Barefoot Contessa). I cut out the pepper and salt and added more maple syrup to make the topping moist and easier to spread.
This recipe didn't turn out quite like I had hoped. I bought bacon that was labeled "thick cut," but it wasn't as thick as it should have been. There was also a lot of fat on the bacon, making it extra greasy. If you make this recipe, make sure you buy true thick cut bacon, and cut off the fat.
What you'll need
Ingredients:
½ lb. thick cut bacon (bacon should be ¼" thick)
½ cup packed light brown sugar
½ cup chopped pecans
¼ tsp. cayenne pepper
4 tbsp. pure maple syrup
Supplies:
How to make candied bacon
Preheat your oven to 400 degrees. Line a baking sheet with aluminum foil. I used two pieces that were longer than the cookie sheet, overlapping them in the middle. Don't cut off the excess foil. It'll come in handy when it's time to clean up.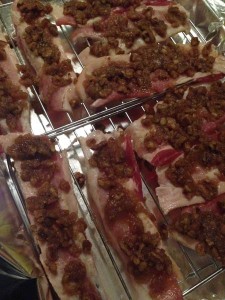 Cut 5 or 6 bacon slices in half to make 10-12 shorter pieces. Cut off any fat. Lay these on the baking racks so that they aren't touching.
In a bowl, combine ½ cup packed light brown sugar and ½ cup pecans. I used a fork to break the pecans up into smaller pieces. Add ¼ tsp. red (cayenne) pepper. Mix ingredients together.
Add 4 tbsp. of pure maple syrup to the mixture and stir until all ingredients are combined.
Spoon the mixture onto the bacon.
Bake for 20-25 minutes, or until bacon looks crisp. Once bacon is removed from oven, you may want to place bacon on a paper towel to soak up the grease.
The racks can be a pain to clean up afterward. I placed mine in a sink full of soapy dishwater and let them soak for a few minutes before attempting to remove the excess topping that had dripped off of the bacon.
Candied Bacon
Prep time: 10 minutes
Bake time: 25 minutes
Total time: 35 minutes
Yield: 10-12 slices
Preheat oven to 400 degrees F.
Line a cookie sheet with aluminum foil.
Place baking racks on top of foil.
Cut bacon in half to make shorter pieces. Lay pieces on baking racks.
In a bowl, combine light brown sugar and pecans. I used a fork to break up the pecans into smaller pieces.
Add the cayenne pepper. Mix together.
Pour in the maple syrup. Mix together.
Spoon the mixture onto bacon.
Bake for 20-25 minutes.
Remove from oven to let cool and crisp up.
Have you made this recipe, or one like it? Tell us about it in the comments below.
Get more Great Recipes in your inbox each week by getting
Around the Table.
It's a FREE weekly e-newsletter all about food. Sign Up Today!