LISBON, Ohio — The Columbiana County Agriculture Hall of Fame will induct three individuals during ceremonies on opening day of the Columbiana County Fair: Dwain A. Hawkins, of Unity Township; and brothers Dr. John Liggett, of Perry Township; and Dr. Thomas W. Liggett, of Center Township.
The trio will be enshrined during the Columbiana County Fair in Lisbon, Ohio, July 31, at 10:30 a.m. in the Arts & Crafts Building. All awards are presented posthumously.
The honorees' families will also be honored, and framed portraits and biographical sketches of each individual will be unveiled.
The biographies of the previous inductees are permanently displayed in the Arts & Crafts Building.
Dwain A. Hawkins • 1922-2015
When Dwain Hawkins came home from serving in the Army during World War II, he told his father he would remain on the farm only if they sold the grade cows and bought registered Guernsey cattle.
Hawkins soon became recognized nationally as a top Guernsey breeder, and the Jande Guernsey Farm herd was the first Guernsey herd in Ohio, and the first of all breeds in Columbiana County, to produce over 500 pounds of butterfat. The herd was one of the first 13 herds in the U.S. to receive the breed's Gold Star Breeder Award, and the farm went on to receive the award 12 times. The Hawkins family bred two Gold Star sires and developed another.
He was a member and past president of the Columbiana-Mahoning Guernsey Breeders Association, chairing their annual eastern Ohio sale for many years. He was also a member of the state and American Guernsey Breeders Associations, serving as state director for six years. He and his four children showed cows at the Columbiana and Mahoning county fairs.
In addition to farming, Hawkins also sold Pioneer seed and Standard barn equipment. As his children left home, he dispersed his herd in 1970, and started working for Agri-King, selling livestock nutrition supplements. He became a district, then regional manager, working for 19 years before retiring in 1990. He is the first nonfamily member to be inducted into the Agri-King Hall of Fame.
Hawkins also helped build his community as a member of the Lions International for 44 years, holding many offices in his local New Waterford Lions Club, and serving as district governor. He was a founding member and past president of the local Lions district Melvin Jones Eye Care Foundation, and a Melvin Jones Fellow. He attended 30 Lions conventions around the world, including one at age 91.
An active member of the East Fairfield Methodist Church, he also delivered meals through Meals on Wheels for 24 years, and was inducted into the Crestview Hall of Fame in its inaugural class.
Dr. John Liggett
1928-2006
From the day he was born on the family dairy farm in Cadiz, Ohio, in 1928, until the day he died, Dr. John Liggett carried a love of agriculture and particularly farm animals.
He followed the footsteps of his older brother Tom to study veterinary medicine at Ohio State University, graduating in 1954, served in the U.S. Air Force, then moved to Salem, Ohio, to begin his practice in 1956. Dr. Liggett served the agricultural community of Columbiana County for more than 50 years with compassion and a deep respect.
Dr. Liggett was also active in the Salem community. He was a member of the First Presbyterian Church and Salem Golf Club, the Phi Delta Theta fraternity, Ohio State University Alumni Association President's Club, and the Buckeye Club. A member of the Eastern Ohio, Ohio and American Veterinary Medical Associations, he served as a trustee of the Ohio Veterinary Medicine Association.
Dr. Thomas W. Liggett
1922-1996
Dr. Thomas Liggett spent more than four decades serving farmers and residents in and around Columbiana County as a veterinarian, and served for many years as the veterinarian on call at the Columbiana County Fair.
He grew up on a dairy farm in Cadiz, Ohio, and graduated from the College of Veterinary Medicine at The Ohio State University in 1944, and served in the U.S. Air Force in France for two years in the early 1950s. Dr. Liggett operated a veterinary clinic in Lisbon from 1944 until he retired in 1984, then assisted his brother, Dr. John Liggett, with his practice in Salem. His wife, Anna Jean Hawk, worked by his side.
An excellent diagnostician, he worked to expand his veterinary knowledge throughout his career, and was active in various veterinary medical associations, and served on the administrative board of Ohio State's College of Veterinary Medicine as well as the board of the Ohio Veterinary Medicine Association.
An active community member and leader, Dr. Liggett also served on the board of directors of the Firestone Citizens Bank in Lisbon, and was a member of the John J. Welch American Legion Post 275, the New Lisbon Presbyterian Church and the Ohio State Alumni Association's President's Club.
(A list of previous inductees continues below the photograph.)
Previous enshrinees include:
2017:
Ernest F. Aegerter Jr.
Isaac F. Skeels
Frank J. Murray
2016:
James C. Baer
Walter Boyd
Wilma Lippincott
Arthur Arter Rudebock

2015:
Allan G. Chamberlin
Charles L. Harper

2014:
Russell N. Cook
James W. Cooper
William L. Woolf
2013:
Curtis F. Hively
Carey Augustus Houlette
2012:
John W. Hawkins
Audrey M. Harrold
Paul H. Hays
2011:
Allen Dickey
Don Rupert
Leland and Oland Baker
2010:
John L. Denny
Charles James Gause
Galen H. Greenisen
Fred H. Johnson
2009:
Paul H. Gipp
J.H. "Howd" Sinclair
Henry Halverstadt
2008:
Edwin R. Copeland
Betty Jo Zehentbauer
Paul Zehentbauer
Gerald Himes
2007:
Nathan Cope
J. Twing Brooks
John S. Morris
2006:
Clifford F. Shaw
Palmer W. Freshley
Russell Lippincott
2005:
Emmet Baer
Leonard Lowmiller
George Wilson
2004:
James T. Darling
Willis J. Zimmerman
Rowena Whinery Zimmerman
Charles F. Mindling
J. Paul Wilms
2003:
John Jacob Bowman
R. Dale Miller
Kenneth D. Eells
J. Herbert Thompson
Samuel Tritten
2002:
Edwin H. King
Ralph Papania
George F. Copeland
Frank G. Bowman
Ralph J. Schneider
2001:
Elden R. Groves
Edmond F. Lippincott
C.T. Shreve
Clifford L. Israel
Joshua Brantingham
2000:
Floyd Lower
Willis Whinnery
Harvey S. Firestone
Oliver Sidwell
Willis Rupert
Bartley Aegerter
Hiram Bell
Peter Y. Brown
Dan J. Simmons
Fred Schoeni Sr.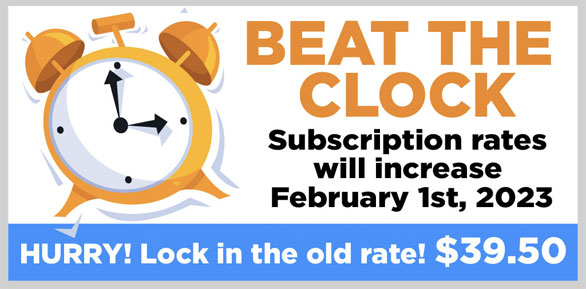 STAY INFORMED. SIGN UP!
Up-to-date agriculture news in your inbox!