CARROLLTON, Ohio — The Kangaroo Krew 4-H club met June 27 with 11 members present.
The club discussed project judging, animal sales and the upcoming county fair. Members took a test to prepare for judging and review what has been learned this year.
Members also made decorations for the club's fair booth.
The next meeting will be at 1 p.m. July 13 at the fairgrounds to set up the booth.
* * *
CARROLLTON, Ohio — The Young Hearts and Stars 4-H club met June 17 with 12 members present.
Members discussed a hot dog stand and donated $100 to the barn fund.
Cindy McDole gave a demonstration on how to give shots to a pig and Jessie Haney demonstrated how to put a harness on a cat.
McDole also gave a health and safety talk on poison ivy.
The club's next meeting is at 7 p.m. Aug. 6 at St. Marry's Church.
* * *
JEFFERSON, Ohio — The Beef-A-Teers 4-H club met June 29 at the home of Dale and Chriss March.
Members discussed plans for the county fair in August and the Cloverbuds made their posters for the poster contest at the fair.
* * *
MARION, Ohio — The Highland Achievers 4-H club met June 22 at the home of Lynn and Brenna Wagoner.
Old business concerns were 4-H Day at Cedar Point, working at the Independence Day food booth at the fairgrounds and sponsoring the rummage sale July 25-26 at the Friends Alum Creek Church to raise funds for a recently hospitalized child.
Dates were reviewed for all project judgings. Members were reminded to bring all judging requirements with them for judging.
Brandon Mayer gave a demonstration on his rocket project. Members completed their entry forms for fair.
* * *
GREENFORD, Ohio — The Greenford Silver Spurs met June 10 at Buckeye Horse Park for the monthly meeting.
Topics of discussion included the officers for 2008-2009 year. Officers are Alicia Withers, president; Katelin Smith, vice president; Mikala Smith, treasurer; and Kylee Dawson, secretary.
Members also discussed future fundraising events and plans for the 2008 Canfield Fair.
All members will volunteer to work at the Buckeye Horse Park Show July 12-13. The next meeting is scheduled for July 16.
* * *
MARIETTA, Ohio — The OSU Extension Washington County 4-H camping program at Camp Hervida is open to 4-H'ers and non-4-H'ers.
The deadline for registering has been extended because there is still room in the camps and time to sign up.
Junior Camp for youth who have completed grades 3, 4, 5, and 6 is July 21-25. The cost is $105 for 4-H members and $175 for non 4-H members.
To register contact Connie Cunningham at the OSU Extension office at 740-376-7431 or log on to: http://washington.osu.edu/4-H/summer-youth-camping-program for more information and registration forms.
* * *
ASHLAND, Ohio — Entry forms for the 2008 Ashland County Junior Fair King and Queen contest are now available at the Ashland County Extension office or the secretary's office at the fairgrounds.
The deadline for all entries and recommendation forms is Aug. 8 at 4:30 p.m. No late applications will be accepted.
The contest is open to all 2008 Ashland junior fair exhibitors who are residents of Ashland County, between the ages of 16 and 18 as of Jan. 1, 2008 or will be a junior for the 2008/2009 school year, and are not married.
This includes youth from 4-H, FFA, FCCLA, Farm Bureau, VICA, Industrial Technology, Boy Scouts and Girls Scouts.
Each candidate will have a 10-15 minute interview with a panel of judges Aug. 24. The coronation will take place Sept. 14, the opening day of the Ashland County Fair.
For more information or an application, contact the Extension office at 419-281-8242 or the Ashland County Fair Secretary's office at 419-289-0466.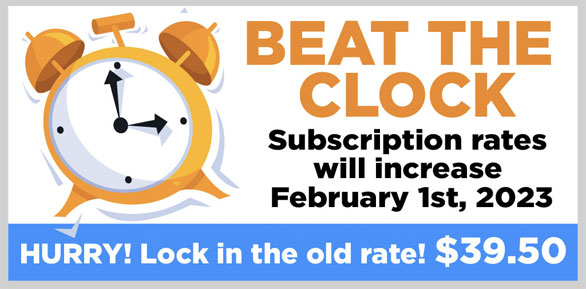 STAY INFORMED. SIGN UP!
Up-to-date agriculture news in your inbox!