(Scroll down for a slide show of the winners, or click on the links of the winners' names to see individual photos.)
Aug. 22, 2015
Sale Total: $256,878.75
Total Lots: 263
STEERS
Number of Market Lots: 39
Average: $ 2.19/pound with champions; $ 2.09/pound without
Number of Carcass Lots: 2
Grand champion: Elon Horchler
Bid: $4.50/pound Weight: 1,390 pounds
Buyer: Crane Room Grille
Reserve champion: Wyatt Dean
Bid: $3.25/pound Weight: 1,332 pounds
Buyer: Howard & Son Meat Packing, DJ's Smokehouse, Howard Law Firm
Grand champion carcass: Dylan Clark
Bid: $3.25/pound Weight: 864 pounds
Buyer: Perdue Fencing, Goebel Family Farms
Reserve champion carcass: Josh Stoner
Bid: $3/pound Weight: 801 pounds
Buyer: Garrett Meats
Champion middle weight market steer: Faith Gibson
Reserve champion middle weight market steer: Meadow Whiting
Reserve champion light weight market steer: Laini Dean
HOGS
Number of Market Lots: 113
Average: $ 3.44/pound with champions; $ 3.30/pound without
Number of Carcass Lots: 2
Grand champion: Taylor Pfaff
Bid: $14.50/pound Weight: 271 pounds
Buyer: Crain Room Grille
Reserve champion: Jackie Thompson
Bid: $7/pound Weight: 262 pounds
Buyer: Goodge Accounting and Tax Services
Grand champion carcass: Dakota Stoner
Bid: $4.25/pound Weight: 184 pounds
Buyer: Deerfield Farms Service
Reserve champion carcass: Savannah Palmer
Bid: $4/pound Weight: 151 pounds
Buyer: Bobby's Transportation Management
Champion heavyweight: Wyatt Snyder
Champion light/middle weight: Katelynn Bennett
Champion light weight: Kole Jenkins
Reserve champion heavy weight: Jordan Radzyminski
Reserve champion middle weight: Connor McCrumb
Reserve champion lightweight: Adelynn Pfaff
RABBITS
Number of Pens of Three: 14
Average: $ 8.66/lb. with champions; $ 6.72/lb. without
Grand champion: Kylee Barger
Bid: $25/pound Weight: 15.4 pounds
Buyer: Tomeo Farms, Big Tex, Featherlite, Wells Cargo Trailers, and Tomeo Farms Husqvarna Parts, Sales, & Service
Reserve champion: Brooke Lechner
Bid: $16/pound Weight: 15.3 pounds
Buyer: Melissa Amodie, candidate for Common Pleas Court Judge
LAMBS
Number of Market Lots: 71
Average: $ 4.65/pound with champions; $ 4.51/pound without
Number of Carcass Lots: 2
Grand champion: Paige Clyde
Bid: $10.50/pound Weight: 136 pounds
Buyer: Shawn Eldridge, in memory of Jim Clyde
Reserve champion: Cheyenne Clyde
Bid: $8.50/pound Weight: 122 pounds
Buyer: Silver Spring Equines
Grand champion carcass: Emily Gibson
Bid: $9/pound Weight: 80 pounds
Buyer: Don and Edy Hoye
Reserve champion carcass: Jenna Whiting
Bid: $9.25/pound Weight: 70 pounds
Buyer: Lyden Oil Co.
Champion heavy weight: Ayla Chapman
Champion middle weight: Elon Horchler
Reserve champion heavy weight: Sidney Andrews
Reserve champion light/heavy weight: Kelsie Okon
Reserve champion middle weight: Trent Mahle
Reserve champion light weight: Ayla Chapman
GOATS
Number of Market Lots: 26
Average: $ 4.76/pound with champions; $ 4.51/pound without
Number of Carcass Lots: 2
Grand champion market goat: Aiden Wanner
Bid: $10/pound Weight: 86 pounds
Buyer: The New NW Sales Co.
Reserve champion: Katelyn Stivers
Bid: $5/pound Weight: 91 pounds
Buyer: Pizza Joe's of Portersville and Mohawk
Grand champion carcass: Ken Chapman
Bid: $7/pound Weight: 44 pounds
Buyer: Whiting Family Foods, Whiting Family Vision Care, Weber Catering
Reserve champion carcass: Emma Hall
Bid: $4.50/pound Weight: 39 pounds
Buyer: The New NW Sales Co.
DAIRY FEEDERS
Number of Market Lots: 11
Average: $ 1.68/lb.
CHEESE
Number of Lots: 19
Average: $ 626.32
Auctioneers and Ringmen:
Mark Cunningham, Beth Hillmar, Duke Whiting, Roger Croll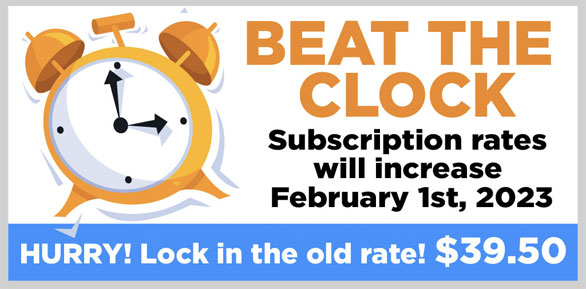 STAY INFORMED. SIGN UP!
Up-to-date agriculture news in your inbox!