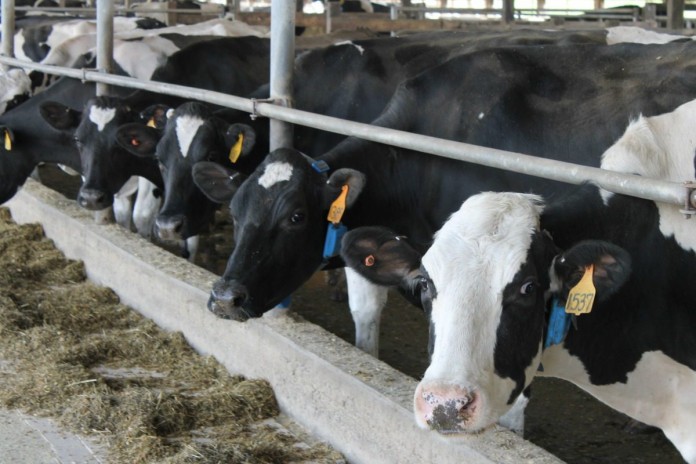 GREENSBURG, Pa. — Solid management and steady progress built the Hopeway Dairy Farm into a successful family farm.
Wayne and Hope Frye purchased their farm in Westmoreland County in 1975, and started out milking 28 Holsteins in a tie-stall barn.
Neither one of them could have predicted how their southwestern Pennsylvania farm would grow — and that today they would be milking more than 300 head.
"We developed our farm to where it is today, a little at a time," said Wayne.
History
In 1977, they expanded their herd to 54. Then, 11 years later, they increased the herd to 84 cows.
But they had the cattle housed an outbuilding and the tie-stall barn and had to keep switching cattle in and out to get through the milking process.
"Things don't just happen. You have to have a plan," said Wayne.
Herd size
So, in 2000, the family built a free-stall barn and kept increasing the herd size, and the following year, the Fryes built a dry cow and heifer facility.
But the family hadn't built a new milking parlor yet, so they would milk in the tie-stall barn and kept switching cattle in and out until August 2003 when a new milking parlor was completed.
The family also built a 1 million gallon lagoon pit to manage their manure and built a bunker that year.
In 2005, the family built a special needs barn, where cows freshen, and renovated the tie stall barn into a calf barn.
Never done
Wayne said they are always thinking ahead and making plans for what's next on the farm.
"It's always a work in progress," said Wayne, and in 2012, they added 50 more stalls to the freestall barn.
In 2014, the Fryes' cow herd calved 366 calves, more than enough to provide replacements for the closed Holstein herd. If a heifer isn't brought into the herd, she is sold.
Equipment care
The Hopeway Dairy has been diligent in making sure the equipment is also taken care of on the farm.
Wayne said they built a shop in 1996 and added on to the shop in 2008. However, as the size of equipment has increased, so did the need for a larger building to work on it, and in 2011, the Frye family built a bigger shop.
But for all the growth and progress, the farm owner remained conservative with his investment.
"We did it one piece at a time. I was more cautious than other farms," said Wayne.
Milking 3x
As the farm grew in size, so did the responsibilities and jobs to fill. In 2008, the family started hiring Hispanic labor to help with the milking and the jobs in the fields.
In April, the Hopeway Dairy Farm added a fourth employee and started milking three times a day. Today, Hopeway Dairy is milking 315 cattle and farming 1,200 acres of crops.
The double 12 parallel milking parlor features state-of-the-art equipment, with an emphasis on cow comfort. It takes the crews three and half hours to milk the 315 cattle. The new setup also includes a 4,000-gallon bulk tank.
Feed ration
Hopeway Dairy feeds a total mixed ration three times a day, which includes baleage. The farm also feeds high moisture corn silage and wet brewers grain.
Challenge
The one challenge the Fryes have had to meet was the lack of area feed mills. Wayne said smaller feed mills didn't modernize throughout the years, partly due to the lack of farms in the area, so most went out of business. He currently uses Witmer's Feed and Grain in Columbiana, Ohio.
Two of the Frye's four adult children have full-time positions on the farm. Patrick started in January 2001 and his sister, Kelley Fry, started working on the farm after graduating from Penn State in 2002.
Field work
Patrick prefers to work in the fields, planting crops, baling hay and harvesting crops in the fall. He bales between 1,700-1,800 wet alfalfa bales a year. In addition, the farm produces 500 dry bales and 500 bales of straw and corn fodder.
"Everybody just knows what they have to do and we get it done," said Patrick.
Cow care
Meanwhile, Kelley, is in charge of the calves and reproduction, and is responsible for keeping the veterinary health records. She said they have 24 calf stalls and they raise a total of 150 heifers a year.
The farm also utilizes the Select Sires' Select Detect activity monitoring system and Dairymaster for use in their heat detection program. They began using the technology in June 2010.
Kelley explained that the cattle wear a neck collar that keeps track of how active the cattle are. The collars are attached to a computer that collects data. Once a baseline is figured out, then when more activity is detected, the information is made available on the computer. The accelerated activity usually means a cow is in heat. It is correct about 80 percent of the time, according to Kelley.
She added that the cattle have a 24 percent conception rate since the farm began using collars.
Kelley said they begin breeding the cattle back once they reach 50 days in milk. If the cattle don't come in heat on their own within 90 days, then a CIDR is implanted and the breeding can begin.
She said the dairy uses prostaglandin at 35 days and then again every two weeks until they breed. They have found the drug helps to build a good heat cycle for the cow.
Wayne said he thinks his family works together well because it's what they want to do and they know what has to be done.
"We all have the same work ethic and that ensures a smooth operation," said Wayne. "You have to want to do it to make it succeed."
Success
Hope said she credits the farm's success with allowing everyone to have their own area that they want to work in.
"Everyone has their own niche," said Hope.
Wayne said he only ever wanted to dairy farm and can't think of a place he would rather be.
"I'm not saying it's for everyone, but it was for me," said Wayne.
And are there any plans for still more expansion?
Wayne said there is something always in the works.
STAY INFORMED. SIGN UP!
Up-to-date agriculture news in your inbox!