SALEM, Ohio — The largest shale play in the United States spans across Farm and Dairy's readership area, producing one-fourth of the nation's natural gas. This area is also known as the Utica and Marcellus basins.
"Shale gas continues to grow, right now harvesting 37.4 billion cubic feet per day," said David Yoxtheimer, hydrogeologist and Extension associate with Penn State University's Marcellus Center for Outreach and Research.
Water management
But millions of gallons of fluids are being used to drill and fracture those wells.
"Water management costs are significant — $2-$15 per barrel to dispose of the fluids," he said. "When you think of millions of barrels being produced each day, those numbers add up quickly."
Penn State's Marcellus center reports between 5 and 25 percent of the cost to drill and develop a shale well is in managing the fluids.
Drillers use 50,000 to 100,000 gallons of water in the drilling process and 3- to 10-plus million gallons of water to hydraulically fracture a single well, according to 2016 reports from Penn State.
The fluid has to be managed before and after the well is drilled and/or fractured.
Shale well fluid facts:

37.4 billion cubic feet per day is harvested from the Utica and Marcellus shale plays

It costs between $2-$15 per barrel to dispose of the fluids

5-25 percent of the cost to drill and develop a shale well is in managing the fluids

50,000 to 100,000 gallons of water are used in drilling process

3- to 10-plus million gallons of water are used to hydraulically fracture of one well

(Source: Penn State Marcellus Center for Outreach and Research)
The flowback fluids, meaning the fluid that comes back to the surface immediately after fracking, can be anywhere from 5-50 percent.
Flowback fluids have a low concentration of metal and salts. Produced fluids that come out of the well over time and during production have a higher concentration of dissolved solids because they have had a longer time in contact with the shale. Experts estimate a half a barrel of produced fluid for every barrel of oil.
What is it?
What is the fluid being used? In fracturing fluid, there is a wide range of additives used. The additives are used to inhibit corrosion to protect the steel, biocides to disinfect, etc.
To find out what exactly is added to the water in a specific area or project, visit www.fracfocus.org, a website operated by the Ground Water Protection Council and the Interstate Oil and Gas Compact Commission.
"In most cases, the additives in the fluid account for less than 1 percent of the fluid used," Yoxtheimer said.
Fluid management
There are five options for the fluids once they are used:
• Direct reuse, blending with new fluids;
• On-site treatment with reuse;
• Off-site treatment with reuse;
• Treatment, with discharge into ground water;
• Class II Underground Inspection Control well disposal;
Recycling
"In Pennsylvania, 70-80 percent of fluids that are recycled are handled in the field," said Yoxtheimer, who also serves as a liaison to advise stakeholders on key environmental issues.
There are many benefits to recycling the fluids out in the field. It is cost effective, requires less trucking, has lower public visibility, and minimizes fresh water use and, overall, has less environmental impact, he said.
Currently, new Pennsylvania Department of Environmental Protection standards dictate that any flowback must be treated to have a total dissolved solids  concentration of 500 parts per million, which is consistent with Pennsylvania drinking water standards.
Pennsylvania is currently recycling 95 percent of the fluids; 1 percent is treated and then discharged back into groundwater; and 4 percent disposed via Class II disposal wells.
"Pennsylvania doesn't have many disposal wells, so they rely on recycling," Yoxtheimer said.
Disposal wells
There are currently six disposal wells in Pennsylvania, compared to 217 in Ohio. They are evaluated and maintained so fluids stay in injection zone, said Yoxtheimer.
Why are so many more disposal wells in Ohio? History, geology and regulation are the main reasons, he said.
The Ohio Department of Oil and Gas Resource Management has had control over the well program in Ohio since 1983, which Yoxtheimer says makes getting permits in Ohio easier. The U.S. Environmental Protection Agency has the primary oversight in Pennsylvania.
Additionally the geology and makeup of the ground in Pennsylvania doesn't lend itself as well to injection wells.
"Historically in Pennsylvania, the water would be sent to water treatment plants, and Ohio has never been set up for that, so they have had to rely on injection wells. These disposal wells can come with a lot of public opposition and need many layers of permits," said Yoxtheimer.
Ohio is not alone in using disposal wells. According to the EPA, approximately 180,000 Class II wells are in operation in the United States.
Brine byproduct
These wells are injected with oil-field brine, a saline byproduct generated during oil and gas well operations.
The salinity, or dissolved content, of Ohio oil-field brines vary considerably from one geologic formation and can vary regionally within the same formation, according to the Ohio Department of Oil and Gas Resource Management website. Ohio brines can be more than six times as salty as seawater.
Approximately 98 percent of all Ohio brine is disposed of by injection back into brine-bearing or depleted oil and gas formations deep below the surface.
Nearly 2 percent is spread on roads for dust and ice control, subject to local government approval and requirements.
In the 217 disposal wells in Ohio, 31.2 million barrels of brine were injected in 2015. Nearly half, 47 percent, of those fluids were from out of state.
Fluid decrease
U.S. oil and gas production increased by 29 percent and 22 percent, respectively, between 2007 and 2012, however, brine production increased by less than 1 percent during that time, said Yoxtheimer.
Innovations in fluids treatment are improving efficiency, lowering costs, and increasing recycling efforts, which will decrease disposal demands in 2017, said Yoxtheimer.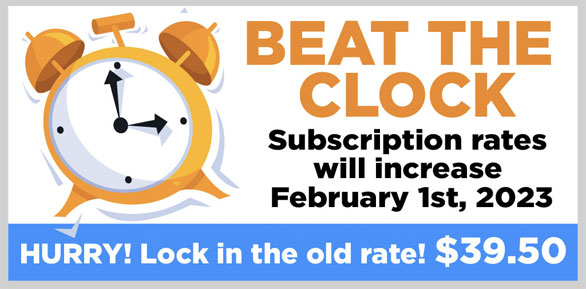 STAY INFORMED. SIGN UP!
Up-to-date agriculture news in your inbox!