(Video and photo gallery below)
CANAL WINCHESTER, Ohio — For 100 years, Mid-States Wool Growers has been working with farmers big and small to help them market their wool. And for most producers marketing their wool through Mid-States Wool Growers Cooperative, it's about loyalty.
Market prices are not the most ideal these days, but Stanley Strode, wool manager at Mid-States Wool Growers, does his best to make sure growers get a fair price for their wool.
"I've been working with Stanley for around 20 years," said Rick Moore, a sheep farmer from Harrison County, Ohio. "It's all about loyalty."
Moore runs around 700 ewes at Cottage Hill Farm and said there are not a lot of options for marketing large volumes of wool east of the Mississippi. "(Mid-States) can handle the volume that we have," he said.
"We can't sell this wool ourselves," adds Jack Monsour, who feeds out 950 head of grass-fed sheep in Bedford County, Pennsylvania. "We depend on them to market it."
Extra income
Raising sheep includes the potential for income from two products: meat and wool, said Strode. Both Moore and Monsour focus primarily on raising market animals, but whenever there is a potential to offset costs, they take it.
Moore said even if he makes only an extra $10 per head from wool sales, he can use that to offset shearing costs and pay for that ewe's feed throughout the winter.
But better quality wool will bring in a better premium.
Market
"The fine wool market is the best it's been in the last 10 years," said Strode, adding the coarse wool market is just the opposite. "I've been in this business for 25 years and I've never seen this big of a spread."
Strode said the "go green" movement has played into the sale of fine wools — used to make clothing. People like wool because it's a renewable fiber and it doesn't hurt the lamb to harvest the wool.
However China is also impacting the current market, he said. China currently has a large sheep inventory, meaning sheep stocks are up and they're not buying.
History
Mid-States Wool Growers got its start as Tri-State Wool Marketing in 1918 serving Kentucky, Indiana and Ohio producers from its warehouse in Cincinnati. In 1921, the co-op purchased a warehouse in Columbus and became known as Ohio Wool Growers Cooperative Association.  
In 1974, Ohio Wool Growers Cooperative Association merged with Midwest Wool Marketing Cooperative, which was organized in 1931 in Kansas City, Kansas, to become Mid-States Wool Growers Cooperative.
Mid-States moved to its current location in Canal Winchester in 1995, where the warehouse has been fitted with the most modern grading facility — even though some things may seem a little old-fashioned.
Grading
When the wool arrives at the warehouse, it is sorted, bagged and given a lot number. When it's time to grade, the wool is put on a conveyor belt that takes the wool up to a platform where Drew Cable is waiting to grade the wool by hand.
"I'm grading off of look and texture," said Cable. He started working with Strode, learning the art that is wool grading, four years ago. "It's a very interesting job," he said. "I pick out defective wool, tender pieces and wool with burrs in it."
When grading a piece of wool, Cable looks at the fiber's length and diameter, and pulls on the strands to determine its strength.  
A piece of wool is graded on its microns, or how fine it is. The finer the wool, the better the price. Cable is also looking at the cleanliness of the wool and the amount of vegetable matter — foreign material like hay and hair — in the wool.
Baled
Once the wool is graded, it is mixed and stored in a large holding dock with similar-grade wool, before it is compacted and baled for storage.
Strode said they can make 600- to 650-pound bales as well as 800- to 850-pound bales.
The wool is baled in fluid-fiber plastic bags because it's easier for buyers to see the wool, and burlap bags can contaminate the wool.
Once it is baled, Cable uses a large metal probe to take a core sample that will be presented to the buyer to show them exactly what they are getting.
More value
Related:

Ohio wool growers learn how to make a better cut

Mid-States Wool Growers Association aims for highest wool prices possible
"It's a true grading system. You benefit from taking better care of your sheep," said Dave Clouser, Ashland County sheep producer and Mid-States board member.
The goal of the cooperative is to protect its members and make sure they are getting the best market price for their wool, Clouser added.
It's a goal that has kept producers loyal for the past 100 years.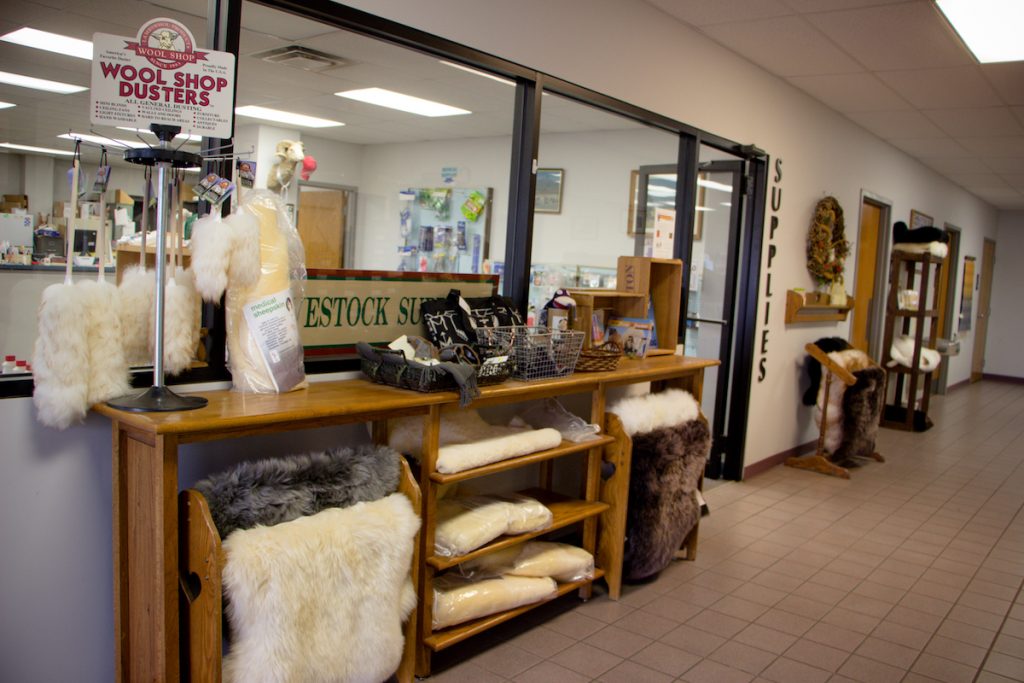 STAY INFORMED. SIGN UP!
Up-to-date agriculture news in your inbox!