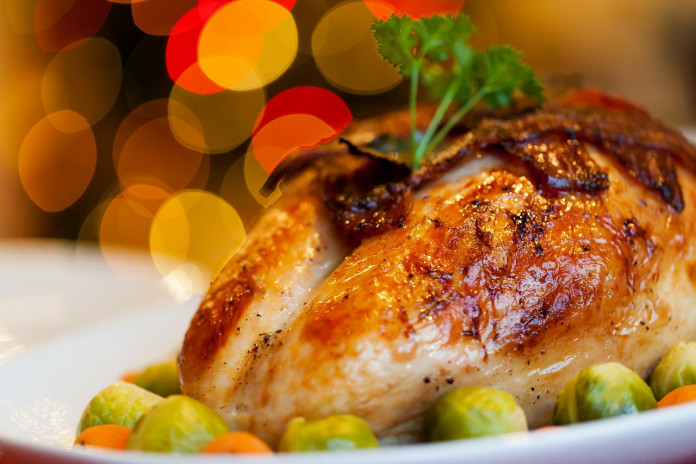 Deep frying a turkey is the second biggest gamble you can take on Thanksgiving. You might not just ruin dinner. Deep fried turkeys have been known to catch fire when the proper precautions haven't been taken. However, when it's executed properly the payout is worth it — you enjoy a tender, juicy bird and the risk balances the reward.
Fortunately, there are safety measures you can take to ensure Thanksgiving goes off without a hitch.
The gamble
According to the U.S. Fire Administration, theses are the top five dangers of deep frying a turkey:
Spilling hot cooking oil over a large area, resulting from an overturned fryer.

An overflow of cooking oil when the turkey is added due to an over filled fryer or a lot of oil splatter from putting a partially frozen bird in the fryer.

Cooking oil spilling onto a hot burner, which can cause a large fire.

Overheating your deep fryer to the point of starting a fire because there's no thermostat control.

Burning yourself on the sides, lid or pot handles of the fryer.
Find a complete list of safety guidelines by visiting the Department of Homeland Security.
Planning ahead
Before purchasing a turkey, check the manufacturer's instructions to confirm any weight restrictions. Most fryers are big enough to cook a 12-pound bird. Anything larger won't fit and will take too long to cook.
Once you've selected the bird, the next step is to pick the right oil. For deep frying a turkey, you want to use an oil that has a high smoke point to avoid a foul odor or taste as the oil breaks down. These oils are safe to use for deep frying: peanut, canola, corn, grape seed, safflower, sunflower, and vegetable.
You can find their exact smoke points by visiting the USDA's guide to Deep Fat Frying and Food Safety.
Preparation
Once you've picked the right turkey and oil for your fryer, you need to figure out how much oil you'll need in the pot. Here's a quick method to get rid of the guess work:
Place the unwrapped turkey in the empty fryer and add water, covering the bird one to two inches.

Make sure the pot is not filled more than 3/4 full and the water level is three to five inches from the top of the pot.

Remove the turkey and measure the amount of water to determine how much oil you'll need. Then drain and dry the pot thoroughly before replacing the water with oil.
Thawing
Make sure your turkey is completely thawed before you fry it. This step is very important. Putting a partially frozen or frozen turkey in a hot fryer can cause a fire and/or large oil spill.
To thaw your bird in advance, you need to plan a full 24 hours of refrigerator thawing for every four to five pounds. It's safe to assume a 12-pound bird will be fully thawed after three days in the refrigerator.
Make sure to keep your turkey refrigerated until about a half hour before cooking.
If you marinate or inject flavor into your turkey, let it remain in the refrigerator for 24 to 48 hours before cooking. Never stuff a turkey you plan to fry.
Cooking
We're almost there you're just 10 steps away from enjoying a delicious deep-fried bird!
Before you turn on your fryer, make sure you're set up in a level location outdoors that's well-lit, well-ventilated and clear of any trees, shrubs or buildings.

Now you're ready to heat your cooking oil to 350 F. When the oil reaches the correct temperature, it's time to begin deep frying.

Next, turn off the burner and carefully lower your turkey into the hot oil. However, don't submerge it all in one motion. Gradually, lower your bird into the oil a little at a time until it's completely covered. Then turn the burner back on to 350 F.

Monitor the temperature of the oil with a thermometer while you're cooking and never leave it unattended.

The turkey will take approximately three to five minutes per pound for cooking time. For example, a 12-pound turkey will take anywhere from 36 minutes to an hour to cook completely.

Once your bird is fully cooked, remove it from the oil and drain its cavity.

After your turkey is drained completely, check its temperature with a food thermometer. It's done when it reaches a minimum internal temperature of 165 F in the innermost part of its thigh and wing and the thickest part of its breast. If the it's not done, return it to the oil for additional cooking.

When your turkey is cooked through, remove it from the oil and place it on a sturdy tray lined with paper towels. The skin will range in color from golden to dark brown to almost black.

Let it cool for 20 minutes before carving.

Enjoy!
Leftovers
Whatever remains after Thanksgiving dinner must be refrigerated within two hours. The leftovers can then be used to make turkey sandwiches, turkey potpie, turkey salad or anything else you can think of for three to four days. If you choose to instead freeze your extra turkey, it can be used for three to four months.
The biggest gamble
If you made it this far, congratulations! Obviously, the biggest risk you take on this particular holiday is getting your entire family together for a meal because lord knows someone is going to have to bring up politics or that year you enjoyed some night-before-Thanksgiving shenanigans.
Resources
STAY INFORMED. SIGN UP!
Up-to-date agriculture news in your inbox!