All month long, Farm and Dairy has gathered Around Your Table! Each week in November, we have featured one lucky cook who has sent in her favorite recipes for all of us to enjoy! Thank you Common Wealth Kitchen Incubator for Sponsoring our Reader's Kitchen Contest.
Our final week's winner is Rosalie Parker of North Bloomfield, Ohio. Thank you for staying tuned all month long as Around The Table got comfy in all four of our winners' kitchens!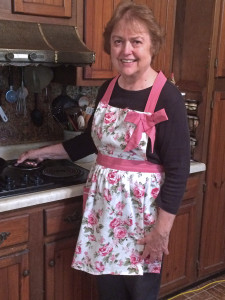 For as long as I can remember, I have been cooking.  My mother was a home-economics teacher and one thing was certain… her daughters were going to learn to cook and sew. So from the very beginning my mother was my teacher, role model and encourager. With a big country kitchen and farm hands to feed, something good was cooking all the time. I made everything from main dishes to desserts. I remember at a very young age making an angel food cake from scratch from the extra egg whites that hadn't sold. When my sister was 9 years old, she made homemade bread and I remember my grandfather bragging on her talents. The only real culinary disaster that I can recall was when I made a batch of no-bake cookies in which I used chicken fat instead of butter!  Around home, everyone belonged to the "clean plate club" and very little was wasted, but I think those cookies hit the garbage can.
We asked Rosalie…
What recipe do you cook that has been handed down in your family the
longest?
The recipe that I still make is what my father called Frigidaire rolls.  That was because the recipe was in a book that came with their new refrigerator.  I still make them for special meals, especially when my sister comes to dinner because she likes and prefers them.  But, the recipe that I make the most often now is Quick Buttermilk Rolls.  They are much simpler and I find that I like "easy."  That recipe follows.
Have you ever entered and won any baking or cooking contests? What won you the prize?
The only cooking contest that I ever entered happened just recently.  Our church had a chili cook-off and I was awarded the Golden Ladle and first prize amenities.  There was no official recipe that I followed.  I just combined what I knew and liked in chili, taste-tested it to my liking, and entered it.  I often "fly by the seat of my pants" when it comes to putting together ingredients and hoping it turns out edible.
If you could eat your favorite childhood meal today, what would it be and who would be cooking it?
My favorite childhood meal was always Sunday dinner and usually my father made that.  Wonderful baked chicken, mashed potatoes, several vegetables and a good dessert, often apple crisp.  Growing up we had wonderful frosted orange cookies.  My son, Jonathan, loved them so much he now enjoys making them keeping that memory going on for another generation.  Daughter Julianne made cookbooks of family favorite recipes that she gave to her brothers several Christmases ago.
Congratulations, Rosalie!
Rosalie's Recipes:
Did you miss a week? Peak into Brenda Baker's, Kathi Hamilton's, or Lynne Almasy's kitchens for their recipes.
Thank you to all who entered into our Reader's Kitchen contest and Congratulations to our winners!
Proudly Sponsored by:
Common Wealth Kitchen Incubator of Youngstown, Ohio
Helping folks create jobs working with the food we love.
330-746-9711
cwkiyoungstown@gmail.com
Meet the next foodie!
Sign up for
Around the Table.
It's a FREE weekly e-newsletter all about food. Sign Up Today!