By PETE CONKLE
It is with great pleasure that I get to introduce you to the Eastern Ohio Grazing Council.
This group of local producers, assisted by the local Soil & Water Conservation Districts and the local Natural Resource Conservation Service offers assistance to landowners wanting to learn more about grazing and pastureland management.
The Eastern Ohio Grazing Council has planned workshops and pasture walks to answer grazing related questions, share great grazing ideas and encourage producers to become more sustainable graziers.
Currently, the Eastern Ohio Grazing Council is working in cooperation with Carroll, Columbiana, Coshocton, Harrison, Jefferson, Mahoning and Tuscarawas Soil & Water Conservation Districts and the USDA-NRCS to host a grazing workshop or pasture walk the fourth Thursday of every month.
Most of the workshops/pasture walks will begin at 6 p.m. After the event, everyone is encouraged to stick around to visit, have refreshments and ask questions. So, not only can you pick the brains of some experienced graziers, but you can do it while enjoying some great food. A free will donation is encouraged to help defray the cost of the refreshments.
Benefits
OK, those are the facts. Now let's discuss what you can gain from attending a workshops or pasture walk.
Not only do you get to hear from knowledgeable people who work for the SWCD or NRCS, but you also get first-hand information from grazers who are practicing the topics they are speaking about.
Different methods
An example of this occurred January 28 at the Ponderosa Steakhouse in Carrollton. We had three producers speak to a packed crowd of 80 people on the different techniques they use to feed hay in the winter. Because every farm is different, everyone's winter feeding technique will be different and these producers were able to share their methods.
The first producer sets round bales in the fall and then moves polywire to ration out the amount of hay for his beef cows. The next producer stockpiles grass for his beef herd and then strip grazes it by using polywire.
And the third producer feeds his large sheep flock by rolling round bales down a hill, which scatters the hay out down the slope.
All of these methods are excellent ideas that not only help to minimize the mud, but also the number of times you have to start a tractor on a cold winter day.
After the producer panel spoke, Clint Finney, NRCS soil conservation technician and multi-species grazier, gave a presentation on frost seeding to help landowners improve pastures.
Pasture walk
Cliff Miller, the current chairman of the Eastern Ohio Grazing Council, was gracious enough to host the March pasture walk. However, the weather did not cooperate so it had to be moved indoors to Cliff's shop.
This was no problem, because our topics that night were using a no-till drill to assist with renovating pastures, knowing the soil types that are on your farm, and then a panel discussion on selecting the proper seed and soil fertility issues wrapped up the evening.
Alternate plan
The no-till drill was backed into Cliff's shop and Carroll SWCD Board Supervisor Vernon Cummings talked on using the drill properly and the different features of the drill.
Kevin Swope, Carroll NRCS district conservationist and bison grazer, then spoke on using soil type information to assist in laying out fences or paddocks along with grazing certain soils during droughty or wet periods of weather.
John Scherr, Carroll County producer and local seed salesman, Charlie Kail, Carrollton Farmer's Exchange agronomist, and Cliff Miller were on the panel to lead the discussion and answer lots of questions from the audience of 50 people.
Improvement
The weather did cooperate for the Eastern Ohio Grazing Council pasture walk on April 22, when the Detweiler Family hosted the event at their beautiful pastured based dairy farm in Carroll County.
This was an excellent occasion for the group of 50 people to see a herd of 45 dairy cows producing an average of 60 pounds of milk a day on grass and then talk about the challenges and opportunities of spring turnout with Clint Finney.
I was even given a chance to speak on the concerns of compaction in a pasture system. Monty Morrison, Carroll County dairy grazier, then spoke on feeding dry hay and molasses to aid in slowing the passage of spring grass through a dairy cow's rumen.
And of course we finished out the evening with refreshments and the social hour to give everyone a chance to intermingle and talk to other graziers.
As a grazier myself, I am very excited to see this Eastern Ohio Grazing Council form.
We all face difficult circumstances or issues at our own farms and sometimes it is hard to resolve such problems. However, the Council is making resourceful people from local agencies and the community available to speak on important topics and then providing pasture walks where you can actually be in the field and see how others manage their pastures.
I feel everyone that is interested in grazing should take advantage of this opportunity; maybe the Eastern Ohio Grazing Council can help you put more fun and profit into your farming operation.
(Pete Conkle is the district program administrator for Columbiana Soil & Water Conservation District. Born and raised in Columbiana County, he assists in managing the family farm near Hanoverton and has worked for the SWCD since 2002. Questions or comments can be sent in care of Farm and Dairy, P.O. Box 38, Salem OH 44460.)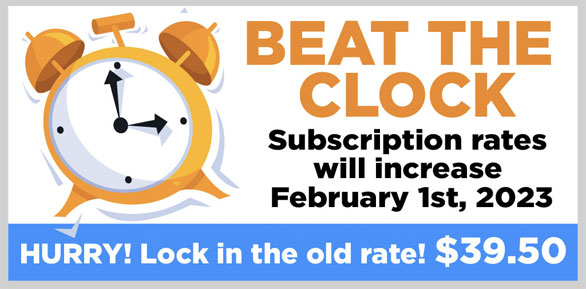 STAY INFORMED. SIGN UP!
Up-to-date agriculture news in your inbox!