The phrase "four-letter word" has a naughty connotation. But there are good four-letter words, too.
Here are a few four-letter words that guarantee year-round outdoor fun.
Bird
Bird activity may peak during spring and fall migration, but there are birds to see and hear all year long. Presently, chimney swifts sweep the skies in town and country for flying insects.
Listen for their distinctive twittering calls. Later this summer flocks of nighthawks will fill the evening sky as they foraged for food to fuel their southbound September migration.
Skeins of ducks and geese will soon head south in familiar "V" formations. And shorebirds, gulls and terns can turn a lazy day at the shore into a birding bonanza.
Swim
Oceans, lakes, and slow-moving waterways are heat sinks; some are just beginning to warm up for the summer.
And because water cools slowly when air temperatures cool, water often stays warm well into fall.
In September, water temperatures can often be warmer than the air. Just be sure to keep a towel handy because a sudden breeze can quickly chill wet bodies.
And as a bonus, a day in the water wears the children out. Add a swim mask, snorkel, and fins to the mix and a whole new dimension of wildlife watching comes into view.
Wade
Wading in shallow water can be just as fun as swimming. Walking along the shoreline on a south Jersey beach in July, I can count on seeing a few ospreys and several species of gulls, terns and shorebirds.
And if I've been living right, I might even spot a porpoise or two.
Boat
Summer is also a great time to explore wetlands in a canoe or kayak. Wildlife is usually more tolerant of watchers on the water than watchers on land.
Just be sure to slather on the sunscreen, and always wear a P.F.D. (personal flotation device). And be careful. Any time I get into a small boat, there's a good chance I'll end up in the drink.
Walk/hike
On a hot summer day, it's hard to beat a leisurely walk in a shady forest. A thick mat of humus cushions every step, and I find the earthy aroma of a mature woodlot particularly soothing.
You may even get a peek or two at some interesting wildlife. If you take a walk with a specific purpose in mind, call it a "hike."
Camp/gaze
One of my favorite summer and fall activities is to camp by a fire and gaze at the night sky.
When our daughters were little girls, my wife and I did this at least a few times each fall. We'd roast hot dogs and marshmallows, watch for shooting stars, learn a few constellations, and tell ghost stories. Before we fell asleep, we'd often hear at least one owl and maybe a few yipping coyotes.
Hunt
Shorter, cooler fall days mean a variety of hunting seasons are about to open. Waterfowl, small game, and white-tailed deer keep hunters busy until the end of the year. But it's not just about the actual hunts.
Many hunters "shop" in the early fall. It's a time for new guns, scopes and tree stands.
Outdoor stores love the fall. Parking lots become seas of SUVs and pick-up trucks as business booms.
Fish
Though some may consider fishing strictly a warm-weather activity, many anglers enjoy their passion year-round. Many East Coast charter captains make daily off-shore trips.
Land-locked lakes remain busy even in midwinter after ice up. Ice fishing is not for everyone, but for some it's almost a way of life.
And as long as mild weather persists, streams and smaller lakes get plenty of visitors.
Finally, fall can be a great time to plan for the future. Where to spend holidays and vacations are always important decisions. Do we stay home or travel?
The best things about outdoor activities are the memories that remain. My wife and I often reminisce about past experiences, so maybe it's time to plan another. And we'll certainly keep some four-letter verbs in mind.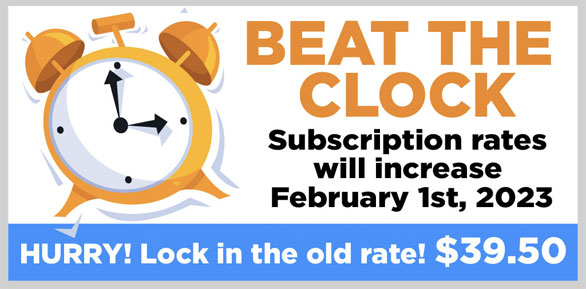 STAY INFORMED. SIGN UP!
Up-to-date agriculture news in your inbox!