The following is a mix of things our office is grappling with.
Horse manure complaints
Recently, we have had a variety of manure complaints from neighbors towards horse owners.
In these cases, we are obligated to determine if the allegations are real and the manure or tainted water is reaching water's of the state.
If not, then we move on. If so, then we must start a dialogue with the owner to correct the problem.
Water's of the state include everything from road ditches, ponds, streams, ground water, etc.
In a couple of situations, I think we were sucked into a dispute between neighbors involving people who are looking for anything to cause consternation with a neighbor.
Unfortunately, they would say, "well, we used to get along with so and so, but not anymore". You then listen to all their baggage from one side only.
With probably more horses than any other county in Ohio, we will continue to receive these type complaints, some legitimate and some not.
Backyard conservation pays off
The District assisted Brunswick, Medina, Wadsworth, six villages and eleven townships and the County Commissioners in participating in our pollinator initiative and Monarch Butterfly mayors pledge program, as created by the National Wildlife Federation.
All communities agreed to install at least two seeding installations friendly to bees, birds, butterflies and other creatures within their jurisdictions.
The seeding mixes came from the Ohio Prairie Nursery and Ernst Conservation Seeds and were provided free to the communities as a result of a bulk purchase by the Board of Supervisors.
The communities individual actions helped create a ground swell of citizens doing the same thing.
Even I installed a small plot. It is doing very well.
Soil health and CO2 emissions
We received a mini grant to test CO2 emissions as a measure of microbiological activity in comparison farm crop fields.
There seems to be a direct soil health correlation between fields with cover crops or some sort of living crop versus fields without.
On a measuring scale of 0.0 (bad) to 5.0 (good) — and so far on 18 different farm field comparisons checked all around the county — 84 percent showed higher carbon dioxide emissions occurring.
We believe past tillage practices, manure utilization, higher organic matter in soil, all play a part in soil health.
You could have high fertilization levels, good drainage, proper pH, but without sufficient organic matter, as supplemented by cover crops, your soil health could be suffering.
Stream owners event
We sponsored an educational session to help stream owners understand what they can and can't do with streams and how to help them with bank stabilization.
Speakers included the Army Corps of Engineers, Rocky River Watershed Council, and ourselves.
We are always asked by stream owners if they can do this or that. The best way to learn about this information is to here it from the regulators themselves, unfiltered by anyone, and current.
They advise, before doing something, check with them because it might be cheaper to do something right — that is regulated — than to do it and have to undo what you did later at your cost.
50 people attended and we were happy they did.
Conservation tour
We took our commissioners, board members, staff and USDA allies on our conservation tour and visited a new 30-acre grassland pasture installation with fencing, paddocks, waters, access lane and cattle.
We also visited a horse bordering facility with new owners rehabbing the property with large tile mains, new ditch outlet, barn removal, access lane, and some other practices in process.
Our tour concluded with an orchard that developed a new high tunnel system with water management that used six 250-gallon totes connected with a gravity manifold system for vegetable irrigation in the high tunnel.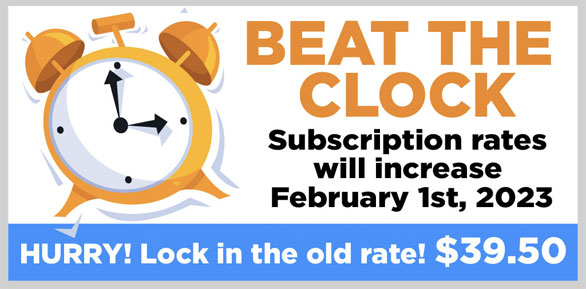 STAY INFORMED. SIGN UP!
Up-to-date agriculture news in your inbox!