NEGLEY, Ohio — She wanted a lake house. He wanted a forest. In 1993, Richard Berg made his dream a reality and purchased 132 wooded acres in Negley, Ohio.
"It is not just 132 acres. I tell people, it is 132 beautiful acres," Richard said with a grin.
Judy, his wife, never got her lake house, but she now spends her days helping him at "Pancake," which is what they call the property because it sits on Pancake-Clarkson Road.
"It is his own Mill Creek Park," said Judy, "and he just loves it."
Conserve
The Bergs of Boardman, Ohio, have been working to conserve and protect the land from day one, collaborating with many federal, state and local programs.
"When you ask my dad what he wants for his birthday, he says, 'five hours of help,' he wants help out at Pancake," said Richie, Richard and Judy's son. "He just never stops, but he enjoys every minute."
The Bergs recently were honored at Columbiana Soil and Water Conservation District's banquet as the 2016 Cooperator of the Year.
"Early on, Jim Elze told me 'the more roads you have in your woods, the more you are going to be able to enjoy it.' I have taken that to heart and created many roads and cleared and tended to the ones that were already here," Richard said.
Learning
"I didn't know anything about this stuff," admits Berg. "But Jim Elze, Dan Bartlett and the associations I am involved in were so helpful in teaching me about drainage, plant and tree identification and what to do."
He is a member of the Little Beaver Creek Wild Scenic Advisory Council and the Northeast Ohio Forestry Association.
Daniel Bartlett, Columbiana County's service forester with the Ohio Division of Forestry, came on the scene in 2006 after the former service forester, Jim Elze, had written the original forest management plan and certified the property as a tree farm.
Bartlett updated the plan and guided the Bergs in moving forward.
"Mr. Berg is a guy who will ask questions and carry through with a project. He has turned a property, which had been heavily cut, into the beautiful piece of land it is now," said Bartlett.
Because of Berg's early collaboration with the SWCD, he received its Outstanding Woodland Owner award in 1999.
"He has been heavily involved in the Northeastern Ohio Forestry Association, attending workshops, tours and hosting a tour of his own," said Jim Elze, a certified forester and runs LZ Forestree Consulting.
Berg has completed timber stand improvement measures on the woodland, including planting American chestnut trees, crop tree release, and grapevine control measures on all 132 acres.
Keeping focus
He has cleared trees, but not sold much of the timber. "I have sold cherry firewood to restaurants in Youngstown, but I've stopped. When I'm focused on selling wood, I can't get to what I really want to be doing."
Richard's focus is on removing invasive plants, building drainage systems and laying stone so water can filter down the hills and ravines without moving massive amounts of sediment into Little Beaver Creek, which is part of the National Wild and Scenic Rivers program.
They have laid about 80 ton of rocks on the paths, about 800 pounds at a time. He hand off-loads the rocks and then loads them into an all-terrain vehicle to transport the gravel.
Many of the roads that run through Pancake Tree Farm are old logging trails, said Richard. They have done years of clearing trees to restore the paths and created new paths of their own on the now Certified Tree Farm.
Richard has also installed — by hand — many pipes and culverts to help the water in flowing down to the river.
Richard estimates he's invested $5,000-$10,000 in rocks and drainage pipes to help keep the sediment from running down into the creek.
Benefits
"The benefits are so numerous," said Bartlett. "He is doing so much to keep the canopy and the banks, and what he is doing is affecting the aquatic habitats long term, eventually creating valuable timber."
Because Pancake Tree Farm is in the Little Beaver Creek watershed, whatever Berg does affects the water quality and wildlife in the area, said Elze. Most wildlife like a diversified environment and Richard works to keep his forest vibrant.
His stewardship affects hikers, too, as the North Country Trail, which runs from New York to North Dakota, cuts through the property. The public is free to walk this scenic trail through the Berg's property.
Maple sap
Walking through his woods, you will see hundreds of tapped maples. They have tapped maple trees for sap for about seven years, and take their sap to Dave Hively and his Misty Maple Sugar House in Salem, Ohio. The Bergs get half of whatever is produced from the sap they bring Hively.
The Bergs have 5/8 tubing lining many of their trees. They started with 88 taps and grew to nearly 1,000 taps, but have cut back over the years to about half that, Richie said.
The Bergs work with the Ohio Maple Producers Association to learn and network.
Value-added
Richie, their son, has been making granola bars and granola for seven years using the maple produced from the tree farm. He keeps busy from June through October selling the products at farmers markets, and year-round delivering them to four area stores.
"I put my granola up against national brands in competitions. In 2011, I won an Ohio food contest — everyone loves it," Richie said. "Maple syrup has one of the least calories per ounce of any sugar."
Richie was one of the founders of the Lake to River Food Co-op established in Youngstown in 2011, which works with local producers and consumers to showcase the diversity and quality of the region's agricultural and culinary landscape.
Family
The land has brought enjoyment to the whole family, and the Bergs' daughter, Amy, and her husband Tim have built a two-story cabin on the property, where they enjoy hosting fires and camping with their three daughters.
"My father just turned 70," said Richie. "I am so afraid I will go out to the woods one day and just find him there. But research studies show that after two years of inactivity, people start to go downhill physically and mentally. There is no fear of that with my father."
(Reporter Katy Mumaw welcomes feedback by phone at 330-337-3419 or by email at katym@farmanddairy.com.)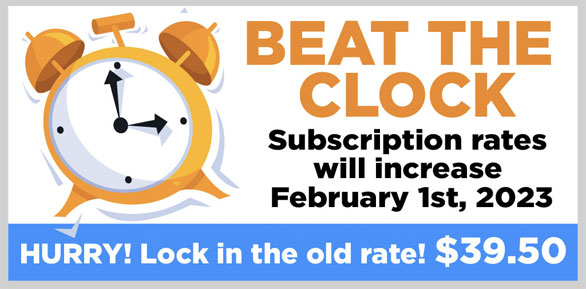 STAY INFORMED. SIGN UP!
Up-to-date agriculture news in your inbox!