One of the landmark measures to control the spread of Asian Carp has been the "carp fence" erected in Eagle Marsh, in Fort Wayne, Ind. The fence is nearly 1,200 feet long and is designed to prevent the invasive carp from entering the Maumee River from carp-infested watersheds, during flood events. Betsy Yankowiak, director of Little River Wetlands Restoration, explained the fence to reporters during a tour in June.

COLUMBUS — Federal and state wildlife officials, working in conjunction with academic researchers, say six water samples taken from Sandusky and north Maumee bays tested positive for the presence of Asian carp environmental DNA in Michigan and Ohio waters.
The positive samples were among 417 taken from Lake Erie in August 2011, and more than 2,000 samples taken from the Great Lakes Basin since 2010.
The Lake Erie batch was recently analyzed and test results were confirmed by eDNA researchers this week. The six positive samples represent less than 1.5 percent of the Lake Erie samples.
Asian carp, including bighead and silver carp, pose a significant threat to the Great Lakes ecosystem and economy.
Sandusky, Maumee bays
Four samples from Sandusky Bay, in Ohio waters, tested positive for bighead carp eDNA, while two samples from north Maumee Bay, in Michigan waters, were positive for silver carp eDNA.
No live fish found
In response to these findings, electro-shocking and netting began July 13 in Sandusky Bay with no evidence of Asian carp found. However, additional testing and monitoring are planned by the Ohio and Michigan Departments of Natural Resources in conjunction with partner agencies.
The findings indicate the presence of genetic material left behind by the species, such as scales, excrement or mucous, but not the establishment of Asian carp in Lake Erie.
Uncertainty
While the eDNA findings suggest the possible presence of the invasive species, officials have no physical evidence the fish have migrated to the Great Lakes.
Prior to 2003, three individual bighead carp were collected in Lake Erie. No additional observations have been reported during the past decade.
"The results from these water samples are certainly concerning, as this marks the first time Asian carp eDNA has been detected in water samples from Lake Erie, or any of the Michigan waters intensively surveyed for the presence of invasive carp," said Michigan DNR Fisheries Division Chief Jim Dexter.
In response to the positive test results, officials from the Michigan and Ohio DNRs, the Michigan Department of Environmental Quality, the U.S. Fish and Wildlife Service, and White House Council on Environmental Quality are developing a plan of action in collaboration with the eDNA research team to obtain follow-up samples and test results as quickly as possible.
Test results from future water samples will dictate the nature of further response methods.
Since 2010, the Michigan DNR, Ohio DNR, USFWS, University of Notre Dame, Central Michigan University and the Nature Conservancy have partnered to collect water samples from Great Lakes basin waters, including the Chicago Area Waterway System, southern Lake Michigan, western Lake Erie and tributary streams of lakes Michigan and Erie. The collaborative early-detection Asian carp surveillance program is funded by the USFWS with a federal Great Lakes Restoration Initiative grant, administered under the Asian Carp Control Strategy Framework.
What you can do
Anglers are urged to become familiar with the identification of Asian carp, including both adults and juveniles, as the spread of juvenile Asian carp through the use of live bait buckets has been identified as a potential point of entry into Great Lakes waters.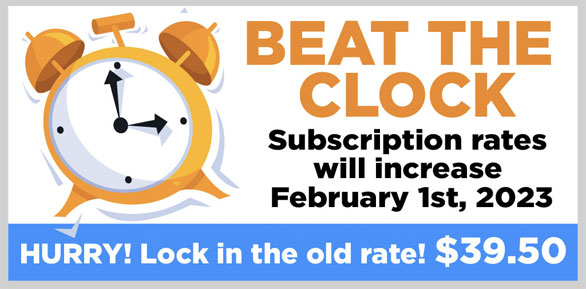 STAY INFORMED. SIGN UP!
Up-to-date agriculture news in your inbox!