The Census of Agriculture is the voice of American farmers. It communicates the current state of Ag to the public, including policy makers and influencers. It is an opportunity for farmers to share data that informs legislative decisions, and impacts farm services and support programs.
The USDA's National Agricultural Statistics Service asks all American agricultural producers of food, fuel and fiber to participate in the 2017 Census of Agriculture. The last Census was conducted in 2012. It counted 3.2 million American farmers, operating 2.1 million farms on 915 million acres.
All farms contribute to the agricultural economy.

Rural, urban and suburban farms in all 50 states and U.S. territories are counted. The 2012 Census mapped the majority of farmland in the middle of the country; Ohio made the top ten list of states with the most farms. All farms with greater than $1,000 in revenue during 2017 are encouraged to take part in the Census of Agriculture.

Survey responses are protected by the law.

The National Agricultural Statistics Service keeps individual producer's responses confidential. Information gathered from the Census is aggregated before it is shared, ensuring an individual farm cannot be identified. A farmer's income and expenses, operator characteristics and other personal information are not shared with the public.

Voice issues that you care about.

For the first time in history, the 2012 Census inquired about on-farm conservation practices. As a result, 278,290 farmers shared how they use cover crops and drainage to improve soil, and agroforestry techniques to provide wildlife habitats on their farms.
On-farm renewable energy is another topic many farmers deemed important in 2012. Data showed 144 percent growth in on-farm renewable energy systems from 2007 to 2012. The increasing number of farms that currently use renewable energy and farmers that plan to add it in the future attests American farmers' commitment to producing clean, renewable energy.
Better access to services and programs.

The Census counts the number of farms at the state and county levels and categorizes farms by type of operation. Agribusinesses and cooperatives use the information to position aggregation, processing and distribution facilities where they will benefit the most farmers.
Government services use the Census of Agriculture when determining where to locate farm service offices and agents. The Census informs programming decisions and funding allocations including conservation payments, loans, disaster recovery assistance and other federal payments. According to the 2012 Census, 811,387 farmers received $8.1 billion in agricultural support.
Identify sales opportunities.

Census reports on local food marketing practices and farmers marketing offers producers insight into consumer, retail and institutional buying trends. Data helps farmers identify opportunities to diversify their operations in profitable areas such as fresh market crops. The 2012 Census revealed a 15 percent increase in vegetable sales since 2007; an additional $2.2 billion in sales. The Census identified top vegetables in terms of acreage and processing. Potatoes, sweet corn and tomatoes appear on both lists.
Make your farm count!
The deadline to sign up for the 2017 Ag Census is June 30, 2017, visit the USDA National Agricultural Statistics Service.
Resources
United States Department of Agriculture National Agriculture Statistics Service, 2012. Census of Agriculture. Retrieved April 28, 2017 from https://www.agCensus.usda.gov/Publications/2012/.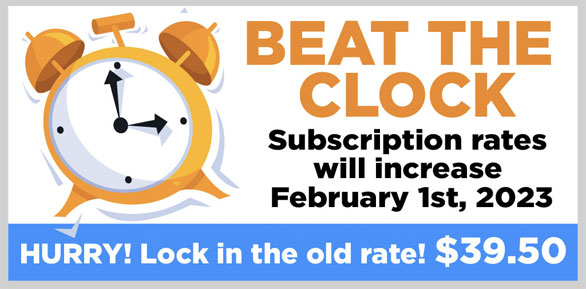 STAY INFORMED. SIGN UP!
Up-to-date agriculture news in your inbox!