What better way to pass on your love of gardening than to teach your children how to take care of soil and plants? As spring approaches, think about making your garden, or at least a portion of it, kid-friendly, and decide on ways to introduce your kids to your love of growing vegetables, fruits, flowers and herbs.
Ohio State University Extension Master Gardeners offer dozens of possibilities for kids to get involved in the garden. Based on these ideas and others, here are six ways you can get your kids in the garden this year:
Try a fun project.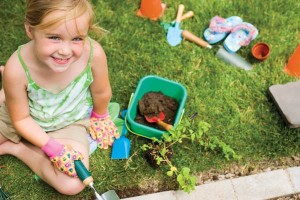 Children like to play, and most children like to play in the dirt! Even before the outdoor gardening season begins, get kids involved in choosing seeds, starting seeds indoors (consider these DIY seed starting projects) and garden planning and recordkeeping.
Get your kids outside in the garden, especially while they're on summer break. University of Nebraska-Lincoln County Extension offers a list of fun gardening project ideas, like alphabet gardening (growing one plant for each letter of the alphabet), planting a bean tower (help kids set up and tie three poles together with twine, then use twine to create a trellis for beans to climb) or even going on a garden/yard scavenger hunt. There are many opportunities for kids to become familiar with plants and insects that they'll encounter in the garden.
To introduce kids to garden chores, make weeding and watering into games. Whatever you decide to do, make gardening fun.
Show kids how to cook with what they've grown.
When it comes time to harvest what you've grown in your garden, make sure your kids are a part of the process. Show kids how to choose ripe tomatoes off of the vine and how to harvest root crops. They'll see how rewarding the harvest is after a summer of work.
If you're canning tomatoes, freezing zucchini or cooking green beans in the pressure cooker, involve your kids with the task. Take into account their age and experience in the kitchen, of course. Show kids how to rinse and dry off herbs and wash dirt off of potatoes. They'll be happy knowing that what they helped to grow will be something that will feed the family.
Teach kids how to successfully grow plants.
Involve kids in all stages of gardening, from making rows, sowing seeds and planting seedlings. Show kids how to properly water plants, and how to thin out seedlings once they begin to grow. It's all a learning process.
Colorado State University Extension recommends growing some plants that are easy for children to handle. Bean and pumpkin seeds are larger, so children will have an easier time planting them.
Colorado State University Extension also suggests giving kids lessons throughout the growing season, such as pointing out how sunflower heads turn to the face the sun or how certain plants will climb up a trellis or along the ground.
Educate kids about outdoor safety.
Tell children about poisonous plants that may grow along your property and show them what those plants look like. You can also educate kids about soil contaminants, and teach them that fertilizer can be dangerous to humans and pets.
Safety with gardening tools is another topic to talk to your kids about. Introduce children to gardening tools, and even get them smaller-size versions of the tools you use so that they can experiment. Make sure you show kids how to properly use tools and what each tool's purpose is. Watch children closely when they use tools.
Give kids their own space.
Give your children an area of the garden for them to plant what they want and to let them experiment with plant care. It's a good idea to use pesticide-free plants since children tend to put their hands in their mouths, even when they aren't clean.
Colorado State University Extension gives general guidelines for the size of a child's gardening space and how many seeds to use, depending on the child's age.
Let kids play.
Don't expect kids to be experts the first time they're out in the dirt. Worry less about straight rows of vegetables and let kids explore. Encourage them to complete crafts with leaves and flower petals from their garden.
If your child chooses to plant a full sun vegetable in the shade, let it serve as a learning experience when the plant doesn't fare so well.
How do you get your kids involved in gardening? Tell us in the comments below!
STAY INFORMED. SIGN UP!
Up-to-date agriculture news in your inbox!