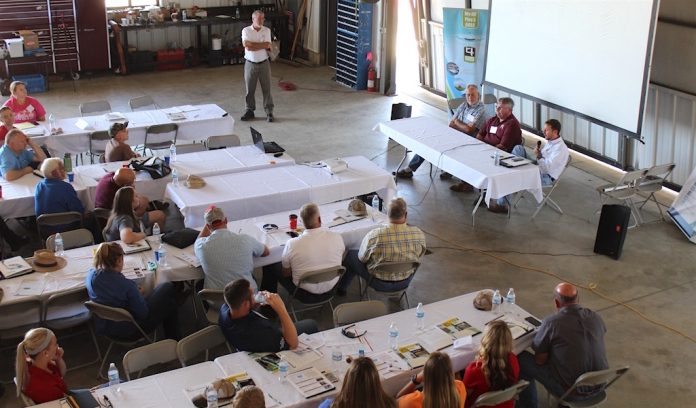 Three years ago, I wrote about the inherent problems with how our governor decided to close and sell our 100-year-old prison farm system.
The cows, the land, new farm buildings and a multi-million-dollar dairy parlor that was almost complete were all brought to a sudden end, because Ohio Gov. John Kasich decided the farms were not worth operating, and that the state could do better by purchasing the milk and other foods that the prison farms used, rather than teaching the inmates how to farm.
Maybe he was right. Maybe we did need to walk away from those farms, but the problem was how he did it — on his own and without the input of people who should have been involved.
Nutrient issue
The same thing is happening again, but this time it deals with the nutrients farmers put on their fields. Since early spring, the governor has been tightening his scrutiny of the Lake Erie water quality issue, and specifically crop production.
We all know that farmers play a huge part in the current water quality issue. A recent EPA study showed that 88 percent of phosphorus that goes into Lake Erie in the Maumee watershed is from nonpoint sources, including agriculture.
We need to act, but we need to think and be responsible at the same time.
The governor was unable to get the Ohio Legislature to take up his plan, so on July 11, he signed an executive order recommending that eight northwestern Ohio watersheds be declared distressed, and that rules be made to regulate and improve those watersheds, until the state's agriculture department declares they are no longer distressed.
Most farm groups have criticized him for acting on his own — ahead of the science — and in a year when, what would you know, the algae bloom is actually predicted to be smaller.
Add the fact that farm profitability is at a historic low, and that we flat out don't yet know the best ways to apply and control nutrients, and you can kind of understand why farmers and the Legislature are worried about more regulations.
Review board
Fortunately for farmers, the governor's order must be approved by a seven-member board called the Ohio Soil and Water Conservation Commission.
You would think that having a board review the order would be good. But keep in mind that the board is also appointed by the governor, and just days before it met, two members whose terms ended in June were replaced with two new members.
One of the replaced members told me he had already received his agenda and meeting packet — only to be called and told he was not being re-appointed.
Both of the replaced members were farmers, and told me they were surprised not to be re-appointed. Both also told me, based on the current information, that they would have voted against the governor's order.
The board ultimately voted 4-2 in favor of sending the executive order to a subcommittee, which will postpone action and provide more opportunity for stakeholder input.
The only two people who voted against postponing the order were the governor's two newest appointees.
I wouldn't want to accuse the governor of replacing the farmers in favor of getting the kind of vote he wanted — but oh my, what a coincidence!
During the meeting, I heard commission members say how they were appalled and disappointed by what they were being asked to do in such a short time. Some even called it the worst policy move they had ever seen.
I feel their pain — this never should have happened the way that it did.
Solving the problem
Ohio farmers recently supported two new regulations that require them to be state certified to apply fertilizer, and to prohibit application to frozen and snow-covered ground. Parts of those laws are still going into effect.
What farmers don't like is when one person tries to tell them what to do, with the stroke of a pen.
President Dwight D. Eisenhower once said that "Farming looks mighty easy when your plow is a pencil and you're a thousand miles from the corn field."
The governor was wrong to say that our farmers have been missing from the table.
Last week, I saw about 150 farmers and fertilizer representatives fill a farm show in northwestern Ohio, where they gathered for the annual 4R field day — a day to review the latest technology in fertilizer management and conservation.
World class research
One of the speakers, a USDA scientist who is studying edge-of-field runoff, said the work being done on Ohio's farms is "recognized around the world."
The farm itself was one of three demonstration farms where farmers have opened their farms for research and tests to determine how to get this nutrient issue under control.
Maybe Gov. Kasich ought to take up the farmers' invitation and go visit those demonstration farms.
Maybe he ought to go see the science and ingenuity that is happening in his own state.
Maybe he ought to remember that agriculture is Ohio's top economic driver — responsible for one out of every seven jobs. Those are more than talking points — they're facts that are the backbone of this state.
Working with farmers
The governor was wrong to try and handle this matter on his own — without working in concert with farmers first. As a working reporter, I called his press secretary three times over the past three weeks for an honest, fair-minded interview, and got no response.
But the important thing is to solve the problem — not throw mud. Based on the amount of testimony presented to the commission and the time the members spent deliberating the issue — I am confident this matter will get the kind of deliberation it deserves.
In the end, the commission may have to vote on some difficult issues, and agriculture may not get everything it wants.
But I'll take an open and transparent process any day over one person making the decisions, and expecting everyone else to follow.
Our governor is a smart man, and so are the farmers and landowners who put seed in the ground. I'd like to see both work together, in an open and transparent way.
STAY INFORMED. SIGN UP!
Up-to-date agriculture news in your inbox!