OAK HARBOR, Ohio — With a flourish of ribbon cutting and a flock of pelicans flying overhead, Ohio Bird Day on May 4 at Magee Marsh kicked off American Birding Week.
The Friends of Magee Marsh and the Ohio Department of Natural Resources Division of Wildlife have completed renovations to the Magee Marsh Visitors Center and the boardwalk. It's open for business as it welcomes visitors with new exhibits, habitat displays focusing on birds and migration, and a gift store. It is the first point of entry to Magee Marsh for bird watchers from all over the world.
"I think Magee Marsh should be on every birder's bucket list," said Mary Mertz, ODNR director, during her comments at the opening ceremony. Mertz states that she hopes everyone who visits has a better understanding of bird conservation.
Top spot.
According to Scott Butterworth, district manager of the Division of Wildlife District 2 headquarters, Magee Marsh Wildlife Area is one of the top 10 birding destinations in North America.
The economic impact of bird watching in Ohio is substantial, with 90,000 birders visiting the area during bird week from May 5 to May 14. They spent about $40 million in tourism dollars, leaving an imprint on the local economy. The evidence was in the out-of-state license plates of the cars sitting in the parking lot during the opening ceremony.
"Bird Week creates an ecotourism boom," said Larry Fletcher, president of Shores and Islands Ohio.
"It's really a critical component of our tourism economy here," Fletcher added. "A lot of hotels, bed and breakfasts, and vacation rentals are full in that early part of May. "
Kim Kaufman, executive director of the Black Swamp Bird Observatory, said birders have purchased condos and vacation homes in the area just so they have a place to stay during bird migration.
"Birds transform lives," Kaufman said during the opening ceremony. "Magee Marsh is the epicenter of the spring migration. It is loved by birders and photographers."
Warbler central.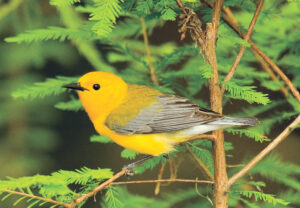 Tourists come in from all states in the U.S. and 52 countries. Warblers are the focus of these visitors since northwest Ohio is considered the "Warbler Capital of the World." Warblers are small songbirds that fit in the palm of your hand, and they come a long way from the Caribbean. They are an important part of the ecosystem.
Warblers are on their way to summer in Canada or the northern U.S. They stop and rest in the Black Swamp and Magee Marsh areas of northwest Ohio. While resting, they will eat insects and plants, then travel across Lake Erie to the north. There are 36 warbler species that migrate through Ohio, and they are a welcome sight to birders, since they are known for their bright colors and beautiful songs.
Warblers aren't the only birds at Magee Marsh. There are large numbers of other types of birds that come through, like robins, cardinals, sandpipers, cranes, ducks, geese, swans and herons.
Gov. Mike DeWine was on hand for the opening. As a former U.S. congressman, he was a co-sponsor of the Recovering America's Wildlife Act. He has also supported the Great Lakes Restoration Initiative, along with other initiatives.
"So many wildlife species rely on wetland habitat like Magee Marsh, which is why we're working to create more wetlands here in northwest Ohio and across the state," DeWine said.
(Reporter Nella Citino can be reached at nella@farmanddairy.com or 323-643-2353.)
STAY INFORMED. SIGN UP!
Up-to-date agriculture news in your inbox!