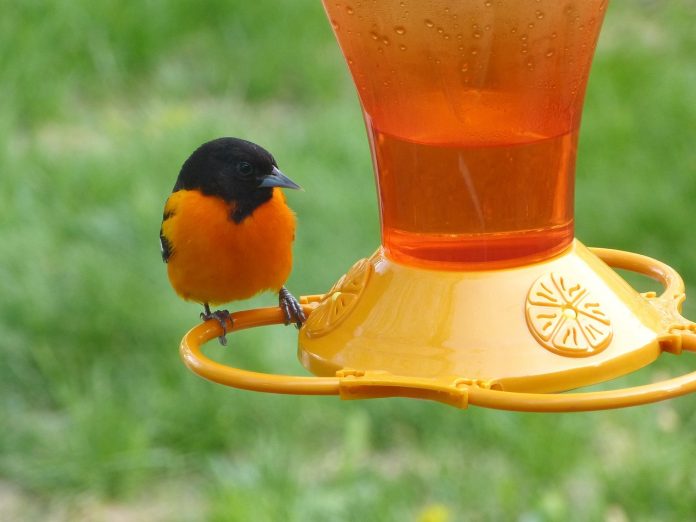 The beginning of spring means the return of migratory birds in Ohio, including shorebirds, waterfowl, songbirds, hummingbirds and grassland birds. 
Magee Marsh State Wildlife Area is at the top of my list for spring birding. It's been identified as one of the top birding locations in the United States by Audobon and the American Bird Conservancy because it is a resting point for millions of songbirds migrating from Central and South America to Canada.  
My backyard is a close second. However, I'm certain it's not on the Audobon's or the American Bird Conservancy's radar as a prime birding location … yet. I have slowly been adding to my arsenal (a few feeders and suet balls) to attract a wider variety of birds.
At first, I just focused on the birds that already visited frequently. But I wanted more diversity, so I offered a wider variety of food and feeders to attract more different types of birds.
When I started thinking of spring one particular bird came to mind — the Baltimore oriole.
Baltimore orioles migrate to breed from early April to late May in eastern and central North America. They are a favorite among birders and are easily recognizable because of their flame-orange to yellow-orange breasts and black and white markings on their backs.
Attracting Baltimore orioles
If you'd like to watch orioles at your feeder, there are a few tricks to attract them.
Fruit. Orioles love fresh fruit. Oranges and grapes are their favorite fruits. There are many fruit feeder options to choose from, but Orioles prefer platform feeders and suet cages. Keep that in mind when deciding how to add fruit to your bird feeding station.
Sugar water. Orioles also like sugar water, mixed at a rate of ⅓ cup of granulated sugar to 2 cups of water. Boil the water and mix the sugar into it until it's completely dissolved. Don't use food coloring in your sugar water. The final product should be offered in an orange nectar feeder to attract and accommodate orioles.
Jelly. Grape jelly offered in small amounts is another favorite treat of orioles. The jelly should be served on a shallow dish and kept fresh.
Put your feeder out early. Your best chance to attract orioles is when they first arrive in early spring — about midway through April in Ohio.
Use an orange feeder. Orioles are attracted to the color orange. Using orange feeders is another way to increase your odds of attracting orioles.
Make sure your nectar feeder is big enough. Hummingbird feeders frequently attract orioles, however, their drinking ports and perches are often too small for orioles.
Put your feeder out in the open. Feeders that are shielded by an awning or tree are more difficult for birds flying overhead to see.
Place a bird bath near your feeder. A bird bath near your feeders will increase your odds of attracting different types of birds, and make your oriole feeders more attractive to orioles.
Be patient. Sometimes it can take a few seasons for visiting orioles to find your feeder. Don't give up if you don't attract a lot of orioles in your first season.
Related Content
Resources
STAY INFORMED. SIGN UP!
Up-to-date agriculture news in your inbox!