NORTH ROYALTON, Ohio — Ellsworth Acres has 3 acres of earth that is rich and fertile. The air is fresh and clean. It's a place where you can heal and grow, and tell your addiction story.
"I was drinking wine like water," said Susan Quinn, a woman in recovery from alcohol addiction. "I was probably the epitome of the functional alcoholic for most of my life, drinking 25 bottles of wine a week."
Quinn said she became legally blind at one point.
"I am convinced it was from drinking," she said. She has been on the farm for 20 months.
No judgment is placed on anyone who comes to the farm, which has been helping women recover for about five years.
Ellsworth Acres is located in North Royalton and has helped many women turn their lives around. The recovery farm program is designed to help women heal from the trauma of dependency and build a new life through agriculture.
Something more
Erin Helms started Ellsworth Acres when she noticed that addiction recovery services did not address the person as a whole. She was working as a counselor at a treatment center in Ohio and felt that there was something missing from the traditional treatment model. 
In 2014, she opened her first recovery house in Lakewood to provide women with holistic support, both physically and emotionally. She saw a need for a workforce development program for women and created a paid training program. She also saw that agriculture offered so many tangible skills for employment. Women can learn budgeting, planning, science, maintenance, record-keeping, bookkeeping, marketing, research and customer service.
Farming is just like recovering, Helms said. Nothing is done quickly. Nurturing growth is vital, and it's important to always be present.
"You have to give yourself time when things are out of your control," she said. "It's just like farming. We can't predict what will happen."
Renee Rosenbaum has been on the farm for almost a year. She has been through more than 10 recovery programs and feels like she has found her place in life at Ellsworth Acres.
"This is the longest I've ever had in recovery, and I'm still finding my journey. It's difficult to say why things clicked, but I'm putting in the work," she said.
Slow flowers
The work around the farm includes planting flowers like ranunculus, marigolds and snapdragons. Later in the summer, the women will harvest cosmos, sunflowers, dianthus and eucalyptus.
"We want to make it look good. We want it to smell good, and we want it to be successful," Rosenbaum said.
This training program has evolved into an entrepreneurial program, and the flowers will be sold to small local businesses and clients. It's a national trend to try to bring back the floral industry to the U.S., Quinn said.
"Most fresh flowers are mass-produced and come from Kenya or the Netherlands, and we're trying to bring back flowers in this area because there are not a lot of flower farms," she said. "It's called the slow flower movement."
The slow flower movement assures that sustainable, organic growing practices are part of a farm's ecosystem. It is also more economical to be local and seasonal and the movement focuses on relationships as well.
For example, the women are working with a business called In the Weeds, which is a flower shop, within a restaurant and bar. Presently, the women are preserving tulips for Mother's Day and are beginning to plant spring flowers for the shop.
"This is my purpose," Quinn said. "I knew that if I was going to get sober, I needed a purpose that I loved."
Rosenbaum agreed.
"This is just a really great community where we help each other out," she said.
Other work includes studying sustainable agriculture at Lorain County Community College. Rosenbaum wanted to pursue something in the agricultural field while it was winter and the off-season, so she started classes in sustainable agriculture.
"I don't have any professional background working in agriculture, but I liked the lifestyle and I like being an environmentalist," she said. Rosenbaum is also learning to cook.
"I am finally living my life, and this place incorporates everything for me," she said. "I feel like I'm home."
Becoming whole
"This is a family environment and this is home," Helms said.
The women are members of Alcoholics Anonymous and also participate in a new recovery concept called Dharma recovery. The Ellsworth Acres philosophy is a focus on a life-long holistic process. The women can stay as long as they want and will move out when they feel ready. Most become gainfully employed and stay sober after they move out. Very few of the women lapse.
When the women are not planting, they are raising and tending to backyard chickens. Ellsworth Acres has four of them and they recently bought two chicks.
"We love the chickens, but we have to be careful of the hawks and the coyotes," Helms said. The chickens are housed in covered coops at the back of the farm.
The farm is presently supported by a grant to assure that the women are paid.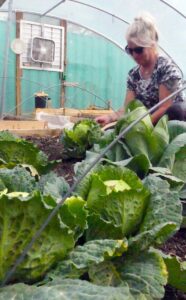 As the women prep for spring planting, Quinn looks back at her life.
"You know, I'm 61 years old, and I had no coping skills," she said.
Right before coming to the farm, Quinn attempted suicide, but she found her way to the Cleveland Clinic and through a series of events, she interviewed at the farm and was accepted.
She was given a second chance. She is now a certified peer supporter and is training to be an addiction counselor.
"I wish I would have known about this sooner in my life. It would have made a big difference. Now, I have gratitude, and I can't wait to get up every morning," she said.
(Reporter Nella Citino can be reached at nella@farmanddairy.com or 323-643-2353.)
STAY INFORMED. SIGN UP!
Up-to-date agriculture news in your inbox!